With the coronavirus in full force, Apple is one of many companies finding it challenging to predict consumer demand, even as it readies the release of its low-price iPhone model and 5G-enabled iPhones. Apple closed factories in China and its Silicon Valley headquarters as well as stores in Europe, impacting iPhone sales, which peaked in 2015. The new model was scheduled to debut this month but might be delayed; 5G phones are expected to unveil in September. Meanwhile, Huawei is also testing the demand for new flagship phones.
The Wall Street Journal reports that, "orders dictate how many new devices Apple makes, and, under the shadow of the pandemic, consumer demand has never been more unclear." Last week, 3.28 million U.S. workers applied for unemployment.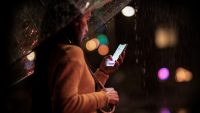 Apple's suppliers are also uneasy, not just due to the uncertain market, but because in 2018, "Apple misread demand and slashed production, sticking some suppliers with excess inventory and underused production capacity." The coronavirus has struck hard at the smartphone industry in general.
According to Strategy Analytics, last month, the industry "shipped 38 percent fewer units worldwide amid China's shutdown compared with a year earlier … the biggest single-month decline in industry history."
Apple chief executive Tim Cook encouraged staff with the news that the company "has about $200 billion in cash and cash equivalents" and is moving ahead "with software updates and new products, including an updated MacBook Air and iPad Pro." The company has also "pushed to increase sales of apps" and opened Apple Stores in 20 additional countries. Chinese factories have restarted their operations but California staff, under a stay-at-home order, are working remotely, "complicating the well-oiled process that has long guided Apple's iPhone development."
Bloomberg reports that, "Huawei Technologies is about to test the demand for flagship smartphones in China." Chief executive Richard Yu stated that the coronavirus spread has weakened. "It's under control and most stores are open," he said. "The supply chain and manufacturing in China has recovered." He added that he was also "confident" that the company will re-establish its partnership with Google.
In Q1 2020, Huawei's shipments of wearables grew 75 percent, PCs increased about 110 percent and wireless earphones soared 150 percent. Demand for smartphones, however, is lagging, and Huawei, like other phone manufacturers, has tried out bendables to increase interest. In February, Huawei announced its second-gen Mate X folding phone which, according to Yu, is not yet profitable although "demand is outpacing supply."
"With time and more production, we can bring the cost down and make it more competitive," he said. He also expressed confidence that "2020 is the first year 5G will take off," which would benefit his company's P40 5G phone. The P40 line of phones relies on Huawei's Celia voice assistant, rather than Google Assistant, as a result of the U.S. trade embargo.
Related:
Global Smartphone Sales Fell 14% in February Due to Coronavirus, VentureBeat, 3/26/20
U.S. Moving Forward With Rule to Limit Chips to Huawei, The Wall Street Journal, 3/26/20
Coronavirus Is Expediting iPhone Makers' Plans to Move Beyond China, Bloomberg, 3/27/20
Topics:
5G
,
Apple
,
Apple Stores
,
Apps
,
Celia
,
China
,
Coronavirus
,
COVID-19
,
Europe
,
Foldable Smartphones
,
Google
,
Google Assistant
,
Huawei P40
,
Huawei Technologies
,
iPad Pro
,
iPhone
,
MacBook Air
,
Mate X
,
Mobile
,
Richard Yu
,
Silicon Valley
,
Smartphone
,
Strategy Analytics
,
Supply Chain
,
Tim Cook
,
Wearable
,
Wireless Earbud