With the advent of the coronavirus, companies such as Facebook, Twitter and Google quickly responded, featuring links to "high-quality information" from the Centers for Disease Control and Prevention (CDC) and World Health Organization (WHO). Big Tech has now donated thousands of N95 masks to healthcare providers and continues to highlight accurate news. Facebook committed $100 million in small business grants and Amazon put out the call for 100,000 new employees. Overall, Big Tech isn't just doing good but doing well, with business holding steady.
The Verge notes that, "news about Big Tech has been a bright spot at a time of great fear" and wonders if it will derail the widespread sentiment that big technology companies are "greedy exploiters of personal data and anticompetitive behemoths who have generally degraded society." It suggests that, "while Big Tech's misdeeds are still apparent, their actual deeds now matter more to us." It also notes that, "we're using Facebook to comfort ourselves," Google is the "potential hub" for coronavirus testing, and "our personal supply chain" has become Amazon.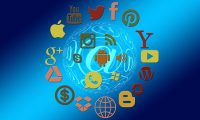 At CNBC, Salvador Rodriguez stated, "Facebook won't be able to rebuild trust with the public overnight, but when the company was presented with an opportunity to rebuild goodwill by being proactive and helpful during global health and financial crises, Facebook sprung to action and seized the moment."
The Verge adds that, "perhaps even more importantly, the crisis represents an opportunity for tech companies to entwine themselves ever more deeply into customers' lives," surmising that people who depend on platforms during the coronavirus are unlikely to cancel them when the virus dies down.
The New York Times reports that Facebook chief executive Mark Zuckerberg "said traffic for video calling and messaging had exploded … [and] Microsoft said the numbers using its software for online collaboration had climbed nearly 40 percent in a week." It concludes, "the pandemic has deepened reliance on services from the technology industry's biggest companies while accelerating trends that were already benefiting them."
Amazon, Netflix, YouTube, Microsoft, Google, even Apple are all doing well in the crisis. "The largest tech companies could emerge on the other side of this much stronger," said Wedbush Securities managing director of equity research Daniel Ives. Still, the stocks of Amazon, Apple, Facebook, Google and Microsoft have collectively "lost more than $1 trillion" and advertising is suffering, negatively impacting Facebook and Google. Some companies, such as Airbnb, Uber and Lyft, "are seeing customers vanish."
In December, IDC predicted that the $3.9 trillion global technology industry would have 5 percent growth in 2020; a month later, it revised its estimate to 1 percent growth and IDC chief analyst Frank Gens now said that even that "looks decidedly optimistic."
Still, says NYT, "the biggest companies are likely to finish the year stronger than ever." More people are turning to Amazon for groceries, putting up the pressure on "one of the last strongholds of physical retailing." CommerceIQ founder Guru Hariharan stated that, "as more customers try different Amazon services, they may create permanent shifts in buying habits."
Related:
Tech Giants to Target Fake Covid-19 Posts, EU Officials Say, Bloomberg, 3/27/20
Topics:
Advertising
,
Airbnb
,
Amazon
,
Apple
,
Big Tech
,
CDC
,
CNBC
,
CommerceIQ
,
Coronavirus
,
COVID-19
,
Daniel Ives
,
Facebook
,
Frank Gens
,
Google
,
Guru Hariharan
,
IDC
,
Lyft
,
Mark Zuckerberg
,
Messaging
,
Microsoft
,
Netflix
,
Salvador Rodriguez
,
Twitter
,
Uber
,
Video Calling
,
Wedbush Securities
,
WHO
,
World Health Organization
,
YouTube