To better compete with the latest flagship Android phones offered by companies such as Samsung, Huawei, Oppo and Xiaomi, Apple is developing in-screen fingerprint tech for its future iPhones, according to those familiar with the plans. It is unclear whether the tech will be featured in 2020 or 2021 models, but insiders indicate that testing is already underway at Apple and its overseas suppliers. Meanwhile, Apple will announce this year's new high-end iPhones on September 10, and is reportedly working on its first low-cost iPhone since the company's 2016 SE model.
In-screen fingerprint tech, growing in popularity with Android handhelds, allows for smaller bezels while keeping biometric security in the front of phones. "Apple introduced fingerprint scanning on iPhones in 2013, following its acquisition of AuthenTec," reports Bloomberg. "Integrated into the iPhone's home button, the Touch ID system was used for unlocking the device, approving payments and authorizing app downloads."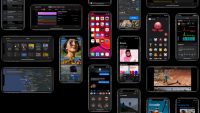 In 2017, Apple replaced Touch ID with its secure face-scanning authentication tech called Face ID, giving the company an edge over its rivals.
Apple's new "fingerprint reader would be embedded in the screen, letting a user scan their fingerprint on a large portion of the display, and it would work in tandem with the existing Face ID system," explains Bloomberg, noting that we may see the update in iPhones as early as next year.
"Suppliers have proven their ability to integrate the technology into iPhones, but the company has not managed to mass-produce it yet, one person familiar with the development work said."
The new phones will feature both biometric options allowing users to choose their face or fingerprint to initiate functions. According to Bloomberg, "the Face ID sensor system will need to be retained because its technology forms the basis for more advanced portrait photography and augmented reality features like Animoji."
Apple is also said to be developing a new low-cost iPhone with 4.7-inch LCD screen and Touch ID in the home button (rather than built into the screen). The new model, slated for the first half of 2020 to take on mid-range offerings from rivals, reportedly looks similar to the $599 iPhone 8 and would be the company's first low-cost handheld offering since the $399 iPhone SE in 2016.
"Apple is looking to retake ground lost in markets like China and India to a host of companies that includes Huawei, Samsung, and Xiaomi," reports The Verge, citing a Nikkei article that also suggested the iPhone would "challenge Google, which became the No. 5 smartphone maker in the U.S. during the June quarter thanks to its $399 Pixel 3A."
Meanwhile, Apple is expected to announce three new high-end iPhones with updated OLED screens next week. Bloomberg indicates we should expect to see "a new camera system on the back with a third sensor for capturing ultra-wide-angle photos and videos" in addition to "significantly upgraded video recording capabilities."
The iPhones will also tout faster processors, improved water resistance, shatter-resistant glass tech, and a new wireless system to charge AirPods. 
"Also coming in 2019: refreshed versions of the iPad Pro with upgraded cameras and faster chips, an entry-level iPad with a larger screen, new versions of the Apple Watch, and the first revamp to the MacBook Pro laptop in three years."
Topics:
AirPods
,
Android
,
Animoji
,
App
,
Apple
,
Apple Watch
,
Augmented Reality
,
AuthenTec
,
Authentication
,
Biometric
,
China
,
Fingerprint Scanning
,
Google
,
Huawei
,
India
,
iOS
,
iPad
,
iPad Pro
,
iPhone
,
iPhone 8
,
iPhone SE
,
LCD
,
MacBook Pro
,
Mobile
,
OLED
,
Oppo
,
Photo
,
Pixel
,
Samsung
,
Security
,
Sensor
,
Smartphone
,
Touch ID
,
Video
,
Xiaomi