Executives at American Express are targeting millennials with a new sponsorship program that includes prepaid debit cards featuring images from the popular online video game "League of Legends" by Riot Games. Tomorrow, the company will announce a program through which users will receive 1,000 points when they sign up for the card and another 1,000 points when they load $20 onto the card. Additional points can be earned with purchases and when the card is linked to a direct deposit account.
"The centerpiece of the partnership is a line of prepaid debit cards that are illustrated with images and characters from the game and that allow cardholders to get so-called Riot Points that can be used to buy characters and other extras in the game," reports The New York Times.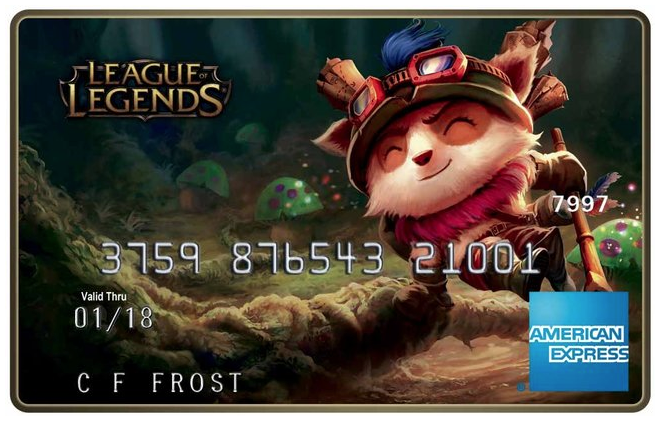 "The American Express Serve Prepaid Account enhances the 'League of Legends' experience by integrating a reward-based system called RP+," explains the press release. "The RP+ program gives gamers Riot Points (RP), the virtual currency used to purchase in-game items like extra customization or boosts, not only for signing up, but for every qualifying purchase made with the Card."
"Getting the attention of the so-called millennial generation is no easy feat for many advertisers," suggests the article. "Try as they might to break through on television, social media and other digital platforms, their sales pitches are often ignored in favor of Netflix, Snapchat, Twitter and video games."
The partnership hopes to expand the traditional reach of American Express by attracting the game's 32 million players worldwide who collectively spend one billion hours of game play a month. According to Dustin Beck, vice president of electronic sports at Riot Games, the "League of Legends" audience is largely male, comprised of 18- to 24-year-old players.
"It gives you a sense of how deeply engaged the players are in playing this game," said Stefan Happ, general manager for online and mobile at American Express in the U.S., in regards to the game's numbers. "We are about loyalty, we are about contact and long-lasting engagement. This is an ideal fit from an audience perspective."
"Norma P. Garcia, a senior lawyer and the manager of the financial services program for Consumers Union, the nonprofit group that publishes Consumer Reports, said linking game incentives like points with the use of a prepaid card could intensify the 'addictive quality of games,'" notes NYT.
Topics:
Addictive
,
Ads
,
Advertising
,
American Express
,
Amex
,
Beck
,
Consumer Reports
,
Financial Services
,
Gamers
,
Games
,
Gaming
,
Garcia
,
Happ
,
League
,
League of Legends
,
Marketing
,
Millennial
,
Netflix
,
Prepaid
,
Riot
,
Riot Games
,
Snapchat
,
Social
,
Social Media
,
Television
,
TV
,
Tweet
,
Twitter
,
Video
,
Videogame