Amazon has reportedly reached agreements with record labels in order to launch a streaming music service by June or July. The Prime music service does not plan to feature recent song releases, but will offer a catalog of tracks and albums that are six months old and older — providing an additional benefit to Prime members who already enjoy access to movies and TV shows via Instant Video, an e-books lending library, and free two-day shipping on products ordered through the retail site.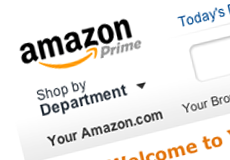 "Similar to Prime Instant Video, the on-demand video option available to Prime members, the Prime music service (the official name of which is still unknown) won't aspire to the full universe of existing content, instead offering a potluck of select songs and albums it has licensed from labels at a discount," reports BuzzFeed.
"That distinguishes it from the prevailing business model of stand-alone streaming competitors like Spotify, Rdio, and Beats Music, all of which have tried to lure customers by promising all of the world's music with a few precious exceptions."
Amazon has reportedly reached deals with Sony Music Entertainment, Warner Music Group, and several indie labels. Status of an agreement with Universal Music Group has not been confirmed.
Amazon's music service is expected to operate across multiple devices. In addition, some offline capabilities are anticipated.
"Compared with Spotify, Rdio, and Beats, Amazon has been granted limited access to the labels' archives, with one source saying that the company will pick and choose what albums to stream based on data from Amazon's existing music and retail operations," BuzzFeed explains. "In some ways, the arrangement mirrors the one reached between Amazon and HBO last month, in which a select number of HBO's older shows were made available on Prime Instant Video."
Topics:
Album
,
Amazon
,
Archive
,
Artist
,
Band
,
Beats
,
Book
,
BuzzFeed
,
Cable
,
Catalog
,
Discount
,
E-Book
,
Episode
,
Film
,
HBO
,
Instant
,
Label
,
Library
,
Member
,
Movie
,
Music
,
Musician
,
Online
,
Premium
,
Prime
,
Program
,
Radio
,
Rdio
,
Record
,
Recording
,
Retail
,
Retailer
,
Series
,
Ship
,
Shipping
,
Show
,
Song
,
Sony
,
Spotify
,
Stream
,
Streaming
,
Subscribe
,
Subscriber
,
Subscription
,
Television
,
Track
,
TV
,
Universal
,
Video
,
VOD
,
Warner