Following last year's "invitation only" rollout, Amazon has released the Glow projector for kids in the U.S. The touch-sensitive 19-inch Glow image can be used for gameplay, arts, storytime and more. It also has an 8-inch LCD screen for video calls, making it a way "for little ones to enjoy hands-on activities while adults simultaneously — and remotely — join in the fun" using a free app for smartphones and tablets. The $300 price includes a 1-year Amazon Kids+ subscription featuring thousands of books, games and the ability to chat with popular Disney characters.
"Glow is on a mission to make kids' lives better by fostering connections between children and their family, no matter where they are," said Joerg Tewes, general manager, Amazon Glow, in an announcement touting "no more missed bedtime stories." Tewes cited research indicating 64 percent of parents surveyed say they use a virtual solution to stay in touch with their children when traveling, including video chats (45 percent), phone calls (44 percent), and texts (33 percent).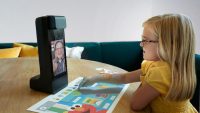 But more than half the parents surveyed said their kids "had trouble staying engaged during traditional video-chatting calls," Tewes explained, offering Glow as a solution. Amazon recently surprised attendees at the Mid-America Trucking Show in Kentucky with a Glow Mobile Station, even gifting a few of the devices.
"Long-haul truckers know firsthand how challenging it is to stay connected with their children while on the road," Tewes said, noting "Glow can help erase the miles and make virtual together time more fun."
TechCrunch described Glow functionality as "a unique, dual-screen [approach]: one built-in screen for the remote caller's face, and another beamed onto the table below via a not-so-obvious projector, to act as a big ol' touchscreen for games and books. Everything the kid sees on their tabletop touchscreen is, generally, mirrored on the remote caller's iOS/Android tablet; when Mom/Dad/Grandma/Grandpa turns the page a thousand miles away, the kid's page turns too."
Gizmodo described Glow as "geared for kids ages 3 to 9" with UI elements that were "a bit advanced" for the writer's 2-year-old. Amazon says it comes with a "2-year worry-free guarantee — If it breaks, return it, and we'll replace it for free."
The video calling and interactive gaming device is available at Target and Best Buy as well as on Amazon.com, where it can be purchased with a Fire HD 10 tablet for $380.
Topics:
Amazon
,
Amazon Glow
,
Amazon Kids Plus
,
Android
,
Best Buy
,
Children
,
Disney
,
Dual Screen
,
Fire HD 10
,
Game
,
Gaming
,
iOS
,
Joerg Tewes
,
Kids
,
Mid-America Trucking Show
,
Mobile
,
Projector
,
Target
,
Texting
,
Video
,
Video Chat
,
Voice Chat