Amazon, which started shipping its Fire TV video streaming devices four years ago, is now planning the release of its 4K Fire TV Cube, which combines Fire TV capabilities with Amazon Echo and acts as a TV control center for other devices. Fire TV Cube offers built-in Alexa and was designed with a "voice first" strategy to, as Amazon Fire TV vice president of product development Sandeep Gupta said, "highlight the use of voice." Priced at $119, Fire TV Cube is the most expensive device in the segment and the sleekest.
Wired reports that having Alexa "in every possible space in your home is part of Amazon's larger strategy of getting you to use Amazon's services, and getting you to buy even more stuff from Amazon."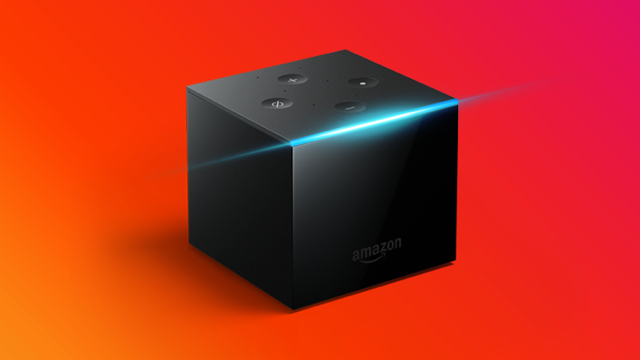 The device is "meant to live out in the open, and not hide inside a home theater console." Fire TV Cube has eight far-field built-in microphones, and "the same beam-forming, noise-reducing, and echo-cancelling tech found in other Echo products." Gupta demonstrated the Cube's built-in Alexa activating "the Samsung TV, Sony soundbar, and Philips Hue smart lights."
The Cube connects to the TV via HDMI "and supports both multi-directional IR and CEC, a feature that allows users to control multiple HDMI-connected devices with just one remote."
Alexa in the Cube can be used "to control a whole host of TV interactions, from toggling the power to searching for shows to controlling the volume … [and] you can even use it to switch inputs between TV boxes and consoles, arguably one of the most useful parts of the setup." The user can connect the Cube to a set-top box or over-the-air TV and access them via Alexa. One caveat: the commands have to be super specific, as in "Alexa, switch to channel 31."
Wired finds the Cube's "most interesting part" is the interface: "While the Cube runs on FireOS, Amazon's Android-based operating system for tablets and TV streaming devices, it has the UX of the Echo Show."
"The reason why we've tried to leverage Echo Show is because voice interaction is different from TV remote interaction," said Gupta. "So, the results and the catalog are the same as any Fire TV, but it's presented in a way that can be navigated through voice." Fire TV Cube, similar to all other FireOS devices, will not play content bought in iTunes, whereas Apple TV now streams Amazon Prime. FireOS also lacks a native YouTube app.
Topics:
4K
,
Alexa
,
Amazon
,
Amazon Echo
,
Amazon Prime
,
Android
,
Apple TV
,
Apps
,
Connected Devices
,
Echo Show
,
Fire TV
,
Fire TV Cube
,
FireOS
,
HDMI
,
IR
,
iTunes
,
OTA
,
Over-the-Air
,
Philips Hue
,
Samsung
,
Sandeep Gupta
,
Set-Top Box
,
Smart Speaker
,
Sony
,
Streaming
,
Television
,
UX
,
Video
,
Virtual Assistant
,
YouTube