Alibaba is expanding beyond e-commerce into social media and entertainment with its mobile app Taobao. Founded in 2003 as a site for small businesses to sell directly to consumers, Taobao has since blossomed with social and entertainment, a "one-stop shop" paradigm that's getting Chinese youth to spend more time on the site than visitors to Amazon and Twitter, and mobile revenue more than doubling in the most recent quarter. What helps to make the site so successful are its more than 1,000 special interest groups.
Bloomberg quotes Alibaba co-founder/vice chairman Joseph Tsai as saying that, "to capture the attention and imagination of young people you have to provide more social features … We want to continue the sense of community so that they'll come back and engage with the platform."
The company succeeded in realizing that goal: "monthly mobile active users increased 39 percent to 427 million and mobile revenue jumped to $2.6 billion in the June quarter." Users visit the site seven times a day, for a total of more than 25 minutes, compared to "about 9 minutes on Amazon's mobile app and 16 minutes on Twitter's app on days when users visit."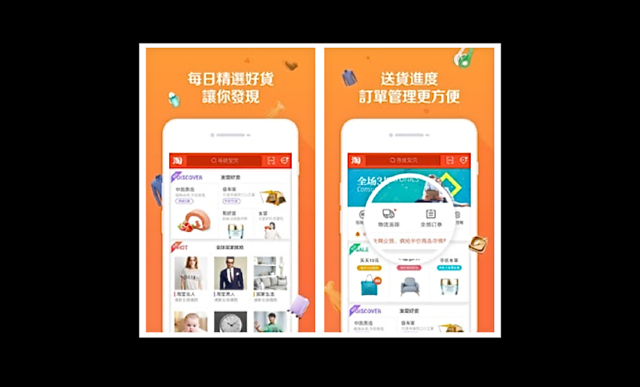 Other ways that Taobao has expanded outreach to its 80 million active monthly users is by enticing bloggers to post content for a commission on product recommendations, a news feed incorporating more than 1,300 media outlets, and video livestreaming for bloggers and businesses to interact with consumers. Tsai reports that, "more social features will be added … but only ones that will lead to more sales."
"We're already at the holy grail point where our users have very high desire to buy things and they're very commercially minded," he said. "We start with strangers but then use data to find a commonality of interest and create a community around that interest."
Alibaba has also added food delivery, travel booking and on-demand home cleaning to Taobao's main app. "For a lot of Chinese companies, distribution is so prized and valuable that if they can add-on other elements to the same user-base, they will consider it," said Andreessen Horowitz partner Connie Chan. "Most of the Chinese players recognize that having more touch points in a user's life is probably the main goal."
Social networking, however, is Alibaba's "soft spot." Its messaging service Laiwang tried to compete with the hugely popular WeChat but didn't gain much traction. The company "was said to have invested $200 million in Snapchat" last year. "We want to learn and understand how Snapchat is engaging with young users," said Tsai. "We're just intrigued by the product and impressed with Evan Spiegel, the founder, and we want to be partners with him."
In the U.S., rather than mixing social media and e-commerce, consumers tend to use separate apps for specific purposes. Facebook, Pinterest and Twitter are all experimenting with ways of convincing users to shop, and Amazon has added lifestyle features but hasn't made great inroads.
Topics:
Alibaba
,
Amazon
,
Andreessen Horowitz
,
Apps
,
Bloggers
,
Blogs
,
China
,
Connie Chan
,
Data
,
E-Commerce
,
Evan Spiegel
,
Facebook
,
Food Delivery
,
Joseph Tsai
,
Laiwang
,
Mobile
,
Mobile App
,
News Feed
,
Pinterest
,
Recommendations
,
Shopping
,
Social Media
,
Social Networking
,
Taobao
,
Travel
,
Twitter
,
WeChat