New estimates from eMarketer indicate that advertisers in the U.S. will spend more on digital advertising through the likes of Facebook and Google in 2019 than traditional media such as television, radio and newspapers. Advertisers are expected to spend in excess of $129 billion on digital advertising this year as compared to the more than $109 billion they will spend on traditional advertising. The shift would mark the first time in history that digital advertising would comprise more than half of the U.S. ad market.
Not surprisingly, tech giants such as Facebook and Google have been leading the digital ad industry's steady growth in recent years. The digital market has experienced significant growth; it was merely half the size of the traditional ad industry in 2015.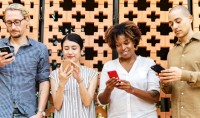 While Facebook and Google have been called before Congress and are facing regulation at home and in Europe, their ad businesses have yet to be negatively impacted. "Facebook and Google made up a combined 60 percent of the digital ad industry in the U.S. last year, which equates to roughly $65 billion in revenue," notes Recode.
"They'll lose a little market share this year — eMarketer estimates they'll combine for 59 percent of the industry in 2019 — but their haul will be even greater: The two are estimated to bring in a combined $77 billion in the U.S. next year."
Advertising for print media such as newspapers and magazines is expected to decline by nearly 18 percent next year, according to eMarketer. The third-largest player in the digital ad market is Amazon, which is expected to capture 8.8 percent of the market this year.
Topics:
Advertisers
,
Advertising
,
Amazon
,
Apps
,
Congress
,
Digital Ads
,
eMarketer
,
Europe
,
Facebook
,
Google
,
Government
,
Internet
,
Magazines
,
Marketing
,
Mobile
,
Newspapers
,
Print Media
,
Radio
,
Regulation
,
Smartphones
,
Tablets
,
Television
,
United States