Amazon hasn't had a good year in the film business since 2017 when it moved away from its Hollywood distribution partners into self-distribution. Since then, the company released six flops in a row, including director Woody Allen's "Wonder Wheel," which cost $25 million and only earned $14 million in North America, and "Beautiful Boy," which cost $23 million and made a mere $7.6 million. Amazon Studios head Jennifer Salke surmised that the company put "too much focus on a narrow prestige lane."
The New York Times reports that Salke, who was previously a successful executive at NBC and 20th Century Fox Television, said Amazon didn't have "diverse-enough points of view in the storytelling." Moving forward, Amazon plans to release about 30 original movies a year, with budgets ranging from "a few million dollars up to $50 million or more," not all of which will be released in theaters.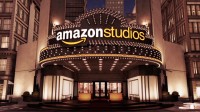 Salke said that "sexy date-night movies" will debut on Prime Video, beginning this summer on Saturday nights. The company has also ordered eight films from Blumhouse ("The Purge"); Blumhouse TV head Jeremy Gold (who runs it with Marci Wiseman) said some of the movies will be thrillers, some will "have a foot in horror" and others will be serious dramas.
Ten movies a year will have "exclusive runs in theaters," including "The Aeronauts," an upcoming movie that stars Eddie Redmayne and Felicity Jones as hot air balloon adventurers, and the comedy "Late Night," starring Emma Thompson and Mindy Kaling. The exclusivity window in movie theaters may be shortened to bring them to Prime Video more quickly.
According to Amazon's Matt Newman, who along with Julie Rapaport and Ted Hope is one of three such execs Salke named to co-head the film division, "it's really about creating that right marketing campaign, right distribution plan for each movie, allowing us to break through the cultural noise and really resonating with customers."
The shortened window could "frustrate multiplex chains, which insist on a 90-day period of exclusivity, worrying that moviegoers will be reluctant to buy tickets if they know they can catch the same film just a few weeks later in their living rooms." For example, "AMC and Regal … have refused to show Netflix's 'Roma' because Netflix offered only 21 days of exclusivity."
Amazon has had success in the past by partnering with such established film companies as Roadside Attractions and Lionsgate. With the former, it released "Manchester by the Sea," which won two Oscars and earned $48 million in North America; with the latter, "The Big Sick," a comedy, earned about $43 million and received an Oscars nomination. This year, the company released "Cold War," which has received three Oscar nominations and brought in $3.6 million in ticket sales.
Salke implicitly compared Amazon's more limited output of original content to the prolific Netflix, stating that it's not about quantity but rather content … the curated approach is the only way to go for us."
Topics:
20th Century Fox Television
,
Amazon
,
Amazon Studios
,
AMC
,
Beautiful Boy
,
Blumhouse TV
,
Eddie Redmayne
,
Emma Thompson
,
Felicity Jones
,
Jennifer Salke
,
Jeremy Gold
,
Julie Rapaport
,
Late Night
,
Marci Wiseman
,
Matt Newman
,
Mindy Kaling
,
Movie
,
NBC
,
Netflix
,
Oscar
,
Prime Video
,
Regal
,
Ted Hope
,
The Aeronauts
,
Wonder Wheel
,
Woody Allen