Facebook launched its Watch video platform in the U.S. this summer, to increase viewership of videos on its site, and as a destination for longer-form video that stands apart from Facebook's News Feed. In the few months it's been live, Facebook Watch already includes hundreds of shows, including content funded by Facebook such as reality series, docu-series, a dating show and live-streaming weekly Major League Baseball games and NCAA college basketball. Now, Morgan Stanley reports on just how well Watch is performing.
Variety explains that the Morgan Stanley team, led by analysts Brian Nowak and Ben Swinburne, after surveying 1,400 Americans last month, uncovered just how "surprisingly popular" Watch has become in such a short time. For example, "40 percent of U.S. Facebook users saying they use Watch weekly," and "about 60 percent of those who use Facebook three or more hours per day said they use Watch on a weekly basis."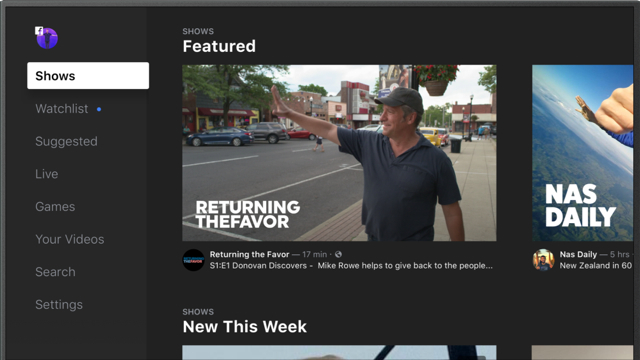 The report also determined that, "40 percent of people using Watch on a daily basis are 16-34 (compared with 24 percent of all Facebook users who access Watch daily)." The report also found that 75 percent of Facebook Watch viewers engage with short-form (under 20 minute) content, "while nearly 50 percent view long-form content (20 minutes or more)."
YouTube remains the online video leader, with about 78 percent of those surveyed saying they watched YouTube in the last year, whereas 43 percent watched Facebook Watch. Still, Nowak and Swinburne noted that the result "speaks to [Facebook's] ability to drive adoption of new products," and that the high adoption rate is important since "Watch (and video) as the next key long-term driver of [Facebook] engagement and monetization."
The New York Times reports that advertisers are taking a close look at Facebook's new News Feed emphasis on family and friends and fewer publisher videos, with "some see[ing] an opening for the company's nascent Facebook Watch video section and its live videos."
OMD chief investment officer Ben Winkler notes that Facebook's Watch Party, which allows groups to watch non-live videos together, likely means that "videos will now be given priority over text posts on Facebook."
"Watch was built with the premise that ad dollars were coming to video and it would be smart for Facebook to have a video platform," said 360i chief executive Sarah Hofstetter, who noted that if publishers made fewer videos, it would "lead to less inventory and push advertisers towards the more premium videos within Facebook Watch."
Another tactic, says Omnicom's Heart & Science executive director of digital activation Ben Hovaness, "would be for publishers to migrate their videos to Watch, where Facebook could sell more of the pre-roll ads with sound that run before YouTube videos."
RPA head of digital strategy Mike Dossett said that, "he anticipated a broader transformation of what appeared on Facebook as the company focused on videos that inspired the active participation of its users, like live sports." "It's going to pretty radically shift the type of video that is populating the platform," he said.
Topics:
360i
,
Advertisers
,
Advertising
,
Ben Hovaness
,
Ben Swinburne
,
Ben Winkler
,
Brian Nowak
,
Facebook
,
Heart & Science
,
Live Streaming
,
Major League Baseball
,
Marketing
,
Mike Dossett
,
Morgan Stanley
,
NCAA
,
News Feed
,
OMD
,
Omnicon Group
,
Pre-Roll Ads
,
Publishers
,
RPA
,
Sarah Hofstetter
,
Social Media
,
Sports
,
Survey
,
Video
,
Watch
,
Watch Party
,
YouTube