According to inside sources, YouTube is readying a premium on-demand music service expected to launch later this year. The new YouTube offering, designed with mobile listening in mind, would be similar to a service such as Spotify, but include video. It is expected to be tiered with a free ad-supported option and a premium component that features unlimited access to a full catalog of tracks, similar to what Google offers with its All Access subscription music service.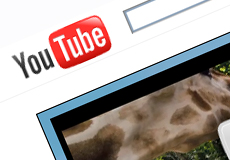 The premium version would also likely include an option to cache music for offline listening and bypass ads.
"The free tier is likely to be unlimited, on-demand access to full tracks on all platforms, including mobile, said several people who have been briefed on the proposed service," reports Billboard. "In that sense, the paid tier is more of a 'soft sell' as YouTube's primary goal is to continue to amass ears and eyes to its mobile platform to sell ads."
"But having a paid tier, with all the required licenses for a premium on-demand product, gives YouTube more flexibility in packaging and selling music with fewer restrictions on what it can do with the music, multiple sources pointed out. In addition, there are strategic reasons for developing a premium music video service that could be paired up with other Google products in the future, including Google Glass," notes the article.
YouTube is already a popular music discovery destination for younger demographics that use it as a free, on-demand jukebox. However, the question remains whether those music fans would be willing to pay a monthly fee. The service could also face competition from Beats Music, expected to launch later this year or early in 2014.
While YouTube has yet to comment, it has already secured licensing through its parent company Google with Warner Music Group, Sony Music Entertainment and Universal Music Group.
Topics:
Ads
,
Advertiser
,
Advertising
,
Artist
,
Band
,
Beats
,
Catalog
,
Discovery
,
Download
,
Free
,
Glass
,
Google
,
Google Glass
,
Library
,
Licensing
,
Marketing
,
Mobile
,
Music
,
Music Video
,
Musical
,
Musician
,
On Demand
,
Premium
,
Radio
,
Song
,
Sony
,
Spotify
,
Stream
,
Streaming
,
Subscribe
,
Subscription
,
Tier
,
Track
,
Universal
,
Video
,
VOD
,
Warner
,
Wearable
,
YouTube