A growing number of YouTube stars — who are often more popular among teens than mainstream celebs such as Seth Rogen and Jennifer Lawrence — are making their way to Hollywood. By the end of 2015, at least a dozen movies featuring Internet celebrities will be released online and in a handful of theaters. Whether or not this transition works will have its first test in mid-July when "Smosh: The Movie," "Bad Night" and "The Chosen" — three movies featuring popular YouTube personalities — are released.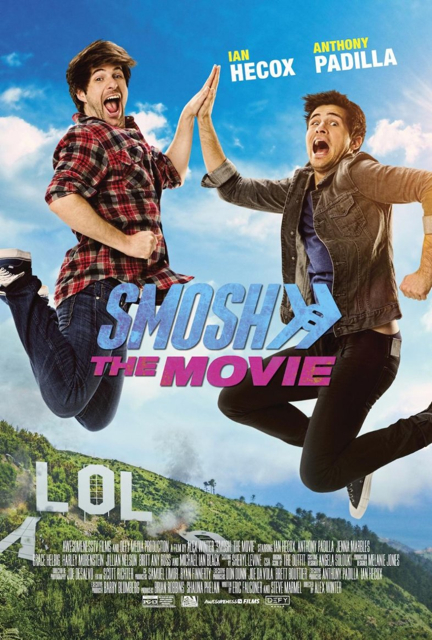 "Bad Night," in which Lauren Elizabeth Luthringshausen and Jenn McAllister play high school students mistaken for art thieves, opens July 21; and, on July 24, both "The Chosen," which features YouTube/Vine comedian Kian Lawley as a teenager battling his demon-possessed niece, and AwesomenessTV's "Smosh: The Movie," whose YouTube channel has over 20 million subscribers, will debut.
According to The New York Times, AwesomenessTV chief exec Brian Robbins isn't worried whether fans will follow their favorite stars from short videos to feature films. His concerns are more practical. "Was I concerned about can they act? A hundred percent," he said.
The difference between shoestring YouTube productions and their Hollywood counterparts couldn't be more extreme. Grace Helbig, one of the stars of "Camp Takota" who just finished filming the first season of a talk show on E!, was shocked to learn that "someone else focuses the camera."
Cameron Dallas, the star of "Expelled" and the forthcoming "The Outfield," found it uncomfortable to perform in front of dozens of crew members.
The producers and directors surrounding YouTube talent have done yeoman's work in preparing their online stars for motion picture cameras, including hiring acting coaches to help the actors develop backstories and motivations for their characters.
"We are not playing characters that are us, but we definitely used a lot of personal experience to drive us emotionally in certain scenes of the movie," Luthringshausen said.
Related:
Can 20 Million YouTube Fans Make 'Smosh: The Movie' a Hit?, The New York Times, 6/26/15
Survey: YouTube Stars More Popular Than Mainstream Celebs Among U.S. Teens, Variety, 8/5/14
Topics:
AwesomenessTV
,
Bad Night
,
Brian Robbins
,
Cameron Dallas
,
Camp Takota
,
Expelled
,
Grace Helbig
,
Hollywood
,
Internet
,
Jenn McAllister
,
Jennifer Lawrence
,
Kian Lawley
,
Lauren Elizabeth Luthringshausen
,
Movie
,
Production
,
Seth Rogen
,
Smosh: The Movie
,
Streaming
,
Television
,
The Chosen
,
The Outfield
,
Video
,
Vine
,
YouTube