YouTube is introducing 360-degree VR videos as well as a virtual movie theater for all YouTube videos. Anyone with a Google Cardboard headset and the Android app can begin viewing the ten or so VR videos that YouTube produced; the iOS app is coming soon. YouTube's VR features come just before The New York Times ships 1.3 million Google Cardboard sets and its own VR documentary, "The Displaced." YouTube's assertive move into VR is widely seen as a way to stay a step ahead of the competition, Facebook in particular.
Wired notes that YouTube is "making every clip in its massive database viewable in a virtual movie theater." Any video shot using YouTube's 360-degree video technology is also viewable with the smartphone and Cardboard. By tapping the Cardboard button in the YouTube app while watching video on the phone, the user can "watch the clip in a kind of floating theater view," and click to re-center it.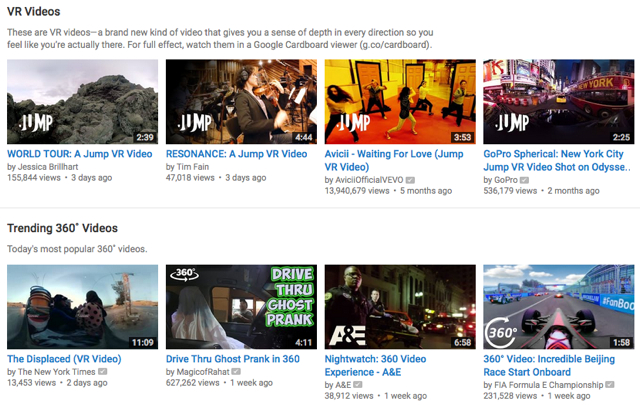 Husain Bengali, a product manager at Jump, Google's virtual reality platform, reports the company is working with YouTube creators to get more VR content up on the platform. Creators not working with YouTube can get access to Jump technology (including the 16-lens GoPro camera, image stitcher and viewer) via YouTube Spaces, the company's studios.
YouTube's grand plan, says Wired, is, "to stay way ahead of everyone else when it comes to being the most dynamic video platform on earth." Chief among the competitors is Facebook, which has made impressive inroads into online video. Facebook chief executive Mark Zuckerberg recently reported that it receives 8 billion daily video views. The company, which also debuted 360-degree video, owns VR headset company Oculus.
YouTube has also announced partnerships with "some of its biggest celebrities to make original shows and movies" and is working with creators who are part of the Jump early access program. The company has stated it plans to introduce more features, including 360-degree sound, as well as additional use cases.
"We want every possible application to be explored," says Bengali. "We'd love for creators to figure out what else there is that we haven't thought of."
Topics:
360-Degree Audio
,
360-Degree Video
,
Android
,
App
,
Camera
,
Documentary
,
Facebook
,
Google
,
Google Cardboard
,
GoPro
,
Husain Bengali
,
iOS
,
Jump
,
Mark Zuckerberg
,
Movie
,
Oculus
,
Smartphone
,
Social Media
,
Streaming
,
The Displaced
,
The New York Times
,
TV Show
,
Video
,
Virtual Movie Theater
,
Virtual Reality
,
YouTube
,
YouTube Space