As its contracts with producers come up for renewal, YouTube is changing its terms for ad revenue splits, no longer providing major Hollywood players like CBS or Warner Bros. with special deals over smaller names such as Machinima or AwesomenessTV. Previously, YouTube offered up to 70 percent of its ad revenue to encourage film and TV producers to place content on the site. Now that YouTube has exploded in popularity, it plans to keep 45 percent of all advertising profits starting in January.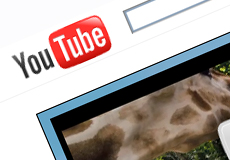 "The transition ends what the online video world referred to as 'sweetheart deals,' where producers of TV and film would keep up to 70 percent of ad revenues, similar to the networks' deals with distributors like Hulu," reports Advertising Age. "It's unclear whether network execs will balk at the new figure; for most, revenue from YouTube represents a trickle anyway."
Additionally, there will be a cap on the amount of the split, "giving upside to those that can sell ads for higher prices." Meaning YouTube is lowering its minimums and allowing sellers to keep all of the profits above those minimums.
"That means content partners able to sell the ads for higher prices could end up keeping a larger share of the pie," AdAge notes, which may soften the blow the new splits bring.
"At the outset the reason for offering lower rates to Hollywood was to lure professional-grade content to the service to make YouTube more advertiser-friendly. The favorable splits also rankled producers of online video, which have chafed under the standard 45/55 arrangement," notes AdAge. "But along the way, YouTube figured out that content produced by the networks and studios doesn't perform as well as the stuff that's always worked well on YouTube."
Topics:
Ad
,
AdAge
,
Ads
,
Advertiser
,
Advertising
,
Cap
,
CBS
,
Content
,
Contracts
,
Deal
,
Executives
,
Film
,
Hollywood
,
Hulu
,
Marketing
,
minimum
,
Movie
,
Network
,
Networks
,
Partners
,
Prices
,
Producer
,
Producers
,
Profits
,
renewal
,
Revenue
,
split
,
Stream
,
Streaming
,
Studios
,
sweetheart
,
Television
,
Terms
,
TV
,
Video
,
Warner Bros.
,
YouTube