After a few months of delays, Yahoo plans to launch its new video service this summer. Like YouTube, the service will allow users to post videos, create their own channels, and embed the Yahoo video player into other sites. Yahoo's video service is different in its more generous revenue-sharing deals with video creators. Content producers with a Yahoo contract will also have the ability to publish their videos on Yahoo properties including the homepage and Tumblr.
The higher ad rate of pre-roll ads is intended to be the big selling point of the new video platform. Currently, Google takes 45 percent of ad revenue on YouTube content. According to Advertising Age, "Yahoo is also offering the option of a fixed ad rate said to be 50 percent or 100 percent higher than YouTube's average net ad rate."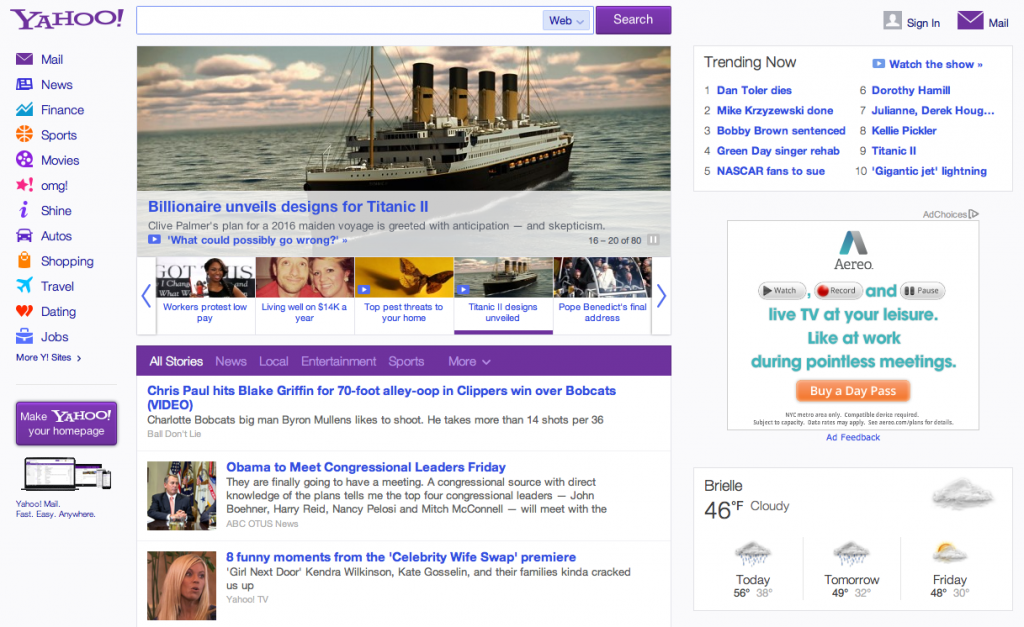 Yahoo's ad rates may be more favorable to creators, but some creators were not happy with the contracts presented to them, and that is part of what delayed the new video service launch.
Yahoo wanted a perpetual license to any videos posted on Tumblr, but as one producer who negotiated with Yahoo said, "Anyone who's done a content deal knows that would never fly."
Some creators also raised concerns over provisions that would allow videos to be downloaded from the Yahoo site for offline viewing.
Yahoo CEO Marissa Mayer has made video a primary focus for the company. In addition to the new video service, the company has been developing two TV-length original series for its streaming service. Yahoo has also signed deals with VEVO and Live Nation Entertainment to offer more concerts and music videos on its site. Mayer is hoping these moves will help Yahoo compete for the $70 billion U.S. television market.
Topics:
Ad
,
AdAge
,
Advertising
,
Advertising Age
,
Channel
,
Competition
,
Concert
,
Content
,
Contract
,
Creator
,
Deal
,
Download
,
Embed
,
Entertainment
,
Fixed
,
Google
,
hosting
,
Launch
,
License
,
Live
,
Marissa Mayer
,
Music
,
nation
,
Offline
,
Online
,
Original
,
Post
,
pre-roll
,
Publish
,
Revenue
,
Rights
,
Rival
,
Series
,
Share
,
Sharing
,
Stream
,
Streaming
,
Television
,
Tumblr
,
TV
,
Vevo
,
Video
,
Yahoo
,
YouTube