Yahoo chief exec Marissa Mayer has decided to close the company's online magazine initiative, which was one of her signature projects. Yahoo notified editors and writers at 15 publications that they would be let go. The digital magazines covered topics such as autos, crafts, fashion, food, health, real estate, technology and travel — some of which will be folded into Yahoo News moving forward. Yahoo plans to continue some original content for areas including tech and fashion, but publications covering autos and food lost all their staff.
"Mayer bet heavily on the magazines as a key to reinventing Yahoo as a premium destination for readers and advertisers," reports The New York Times. "She devoted significant engineering resources to adapt Tumblr, Yahoo's blogging network, to host the magazines."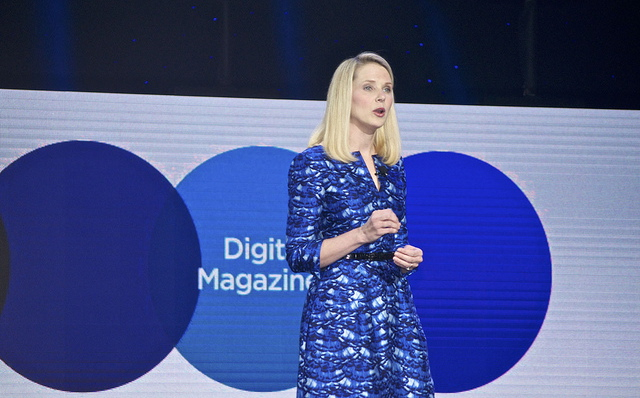 Mayer acquired more than 20 companies and spent millions on major names including cosmetics titan Bobbi Brown, noted creative director Joe Zee and tech columnist David Pogue. However, Yahoo failed to achieve its goals and is now spinning off its core business.
Mayer envisioned personalization and targeted ads with the digital publications. "A magazine, all 10 million copies have to be the same," Mayer said in 2014. "Digitally, you can personalize it. You can put different advertisements that are more meaningful to the users in each one."
However, NYT suggests that Yahoo's tech failed to reach the necessary level of sophistication. "The editors of the magazines were constantly fighting with the people who ran Yahoo's home page to get prominent display for their work. The home page editors, relying on reader data and computer algorithms, preferred to run articles licensed by Yahoo from other sites because they drew more traffic. The magazines also struggled to draw in relevant advertising."
Topics:
Advertising
,
Algorithms
,
Articles
,
Automotive
,
Blogging
,
Bobbi Brown
,
Crafts
,
Data
,
David Pogue
,
Digital Magazines
,
Editors
,
Fashion
,
Food
,
Health
,
Joe Zee
,
Journalists
,
Licensing
,
Magazine
,
Marissa Mayer
,
Online Magazines
,
Personalization
,
Publishing
,
Real Estate
,
Targeted Ads
,
Travel
,
Tumblr
,
Writers
,
Yahoo
,
Yahoo News