In a blog post this week, Yahoo announced that its privacy policy will no longer recognize when users activate "Do Not Track" signals in their browsers. Although users purposefully use this setting to indicate they do not want companies to monitor their online behavior, the tracking is necessary for Yahoo to create a more personalized experience for its users. The move is part of larger strategy by CEO Marissa Mayer to brand Yahoo as a "personalization company."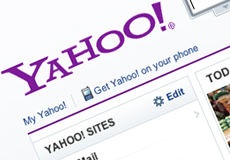 "Here at Yahoo, we work hard to provide our users with a highly personalized experience," writes the Yahoo Privacy Team. "We keep people connected to what matters most to them, across devices and around the world. We fundamentally believe the best web is a personalized one."
"As of today, web browser Do Not Track settings will no longer be enabled on Yahoo," explains the post. "As the first major tech company to implement Do Not Track, we've been at the heart of conversations surrounding how to develop the most user-friendly standard. However, we have yet to see a single standard emerge that is effective, easy to use and has been adopted by the broader tech industry."
Yahoo recommends managing privacy settings on its own platform via the Yahoo Privacy Center.
"The decision is a course reversal for Yahoo, which was the first, and, until now, the largest web company to say it would honor no-tracking requests from users," reports The Wall Street Journal. "The decision to  abide by the signal is optional for web companies because the no-tracking request does not automatically block web cookies, the tiny files that collect data about users' behavior online. Pinterest and Twitter have also said they honor no-tracking."
"Yahoo's decision to flatly ignore users' Do Not Track requests is a scandal," said Peter Eckersley of the Electronic Frontier Foundation. "Everyone needs to understand that this applies not just to Yahoo and Flickr and Tumblr, and to the giant network of ads that Yahoo operates across the Web. Every time you see one of those, it sees you too, and tracks you."
EFF launched its Privacy Badger software tool this week, to help with blocking online tracking.
Topics:
Ad
,
Blog
,
Browser
,
Connect
,
Contain
,
Content
,
Custom
,
Data
,
Demographic
,
Device
,
Do Not Track
,
EFF
,
Experience
,
Finance
,
Flickr
,
Homepage
,
Honor
,
Information
,
Location
,
Meyer
,
Monitor
,
Movement
,
News
,
Online
,
People
,
Personalized
,
Pinterest
,
Policy
,
Post
,
Privacy
,
Reader
,
Redesign
,
Refuse
,
Request
,
Revamp
,
Search
,
Setting
,
Signal
,
Sites
,
Social
,
Stream
,
Track
,
Tumblr
,
Tweet
,
Twitter
,
Web
,
Website
,
World
,
Yahoo