VR company Vrse has changed its name to Within and received $12.56 million in funding, led by venture firm Andreessen Horowitz. Other Within investors include 21st Century Fox and Annapurna Pictures. This is just the latest example of the huge sums that VR and AR companies have been able to garner. Magic Leap raised $793.5 million earlier this year, and Disney spearheaded a $65 million round for VR firm Jaunt. Comcast also led a $6.8 million Series A funding round in VR studio Felix & Paul.
Wired quotes Within chief technology officer Aaron Koblin, who co-founded the firm with Chris Milk, as saying that, "There's a lot of excitement and a lot of hype around VR these days, and what we're trying to think about is the big story around narrative and around storytelling."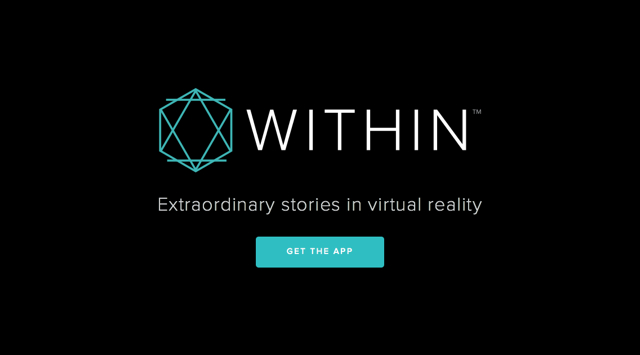 Noting that "making virtual versions of the real world isn't really what we're after," Koblin says that, "even the idea of open-ended virtual reality is very different from a very craft-driven, experiential virtual reality, which is more where we want to be."
"It's really the fusion of Los Angeles and San Francisco, Hollywood meets San Francisco," he added. "There's so much hype and excitement and there's barely any content still… [But] I think this is going to be a very big year."
According to VentureBeat, Within's app, currently available on iOS, Android, Samsung Gear VR and the Internet, is "launching on the Oculus Rift and the HTC Vive and will be coming to PlayStation VR." Other investors include Raine Ventures, WME, Live Nation, Vice Media, Tribeca Enterprises, Legendary Pictures, and Elisabeth Murdoch's Freelands Ventures.
For more information, read Chris Milk's "The Future of Virtual Reality and Why it's Causing Us to Change Our Name."
Topics:
21st Century Fox
,
Aaron Koblin
,
Andreessen Horowitz
,
Android
,
Annapurna Pictures
,
App
,
Augmented Reality
,
Chris Milk
,
Comcast
,
Disney
,
Felix & Paul
,
Gear VR
,
HTC Vive
,
Internet
,
iOS
,
Jaunt
,
Los Angeles
,
Magic Leap
,
Oculus Rift
,
PlayStation VR
,
Samsung
,
San Francisco
,
Sony
,
VC
,
Venture Capital
,
Virtual Reality
,
Vrse
,
Within