Videogram, a service that can create a mosaic of scenes from an online video where users can view each portion, is showing up on more websites and video apps. The creator, a startup called Cinemacraft, has also announced that it will now offer Videogram on Twitter. The company has received funding from Turner Broadcasting and others. Turner, film studios and music companies are beginning to use Videogram on their websites and elsewhere online.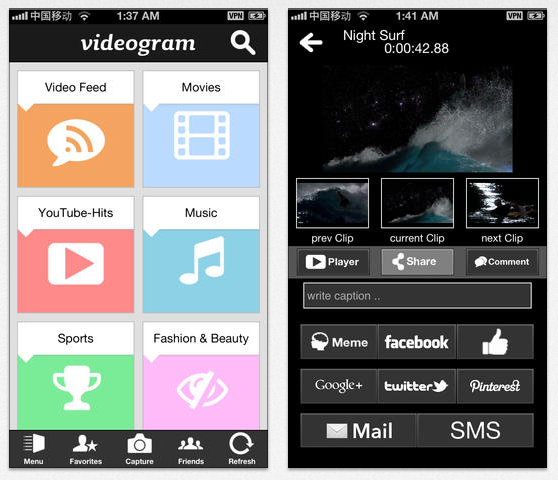 "Videogram dices up videos into smaller segments, creating a mosaic that highlights the most relevant bits with larger tiles based on various factors — providing more entry points into, say, a movie trailer, TV episode or music video," explains Variety. "Users can share the entire Videogram or specific snippets."
The service can double the amount of time spent viewing video, whether on the Web or on a mobile device, according to Balaji Gopinath, VP of emerging technology for Turner Broadcasting System.
The startup recently received a combined $1.5 million from Turner's startup-accelerator called Media Camp, along with NTT DoCoMo and the investment firm 500 Startups. Last year, Cinemacraft raised seed funding of approximately $500,000 from 500 Startups and angel investors.
Turner will launch Videogram on its truTV website and video apps. "The world of video discovery is a challenging thing," Gopinath said. "Cinemacraft addresses that with a whole new way of being able to access video."
At the Media Camp programmer event in San Francisco on Thursday, Cinemacraft announced that it will combine Videogram with Twitter's Player Cards technology. This will allow users to see a mosaic of scenes directly in their Twitter feeds, same as YouTube and Vine videos.
Cinemacraft has also worked with Sony Pictures to make Videograms for several films: "Battle of the Year," "Elysium," "One Direction: This is Us," and "RoboCop." In addition, 21st Century Fox has produced a Videogram of the trailer of Justin Timberlake's "Runner Runner," and Universal Music Group has Videogram versions of music videos by Lady Gaga, Jennifer Lopez and Tori Kelly.

The company was founded by current CEO Sandeep Casi in 2012. He originally created Videogram as a way to discover the most relevant sections in color-copier documentation videos while working as a research scientist for FX Palo Alto Laboratory.
"Videogram breaks down scenes based on color, motion, image similarity and duration, and then reformats itself based on which segments are clicked on most frequently," notes Variety. The service is available on the Web and has iOS and Android app versions.
"It's a living, breathing pictorial summary," Casi said.
Topics:
500 Startups
,
Android
,
App
,
Cinemacraft
,
Discovery
,
Elysium
,
Film
,
FOX
,
Gaga
,
Google
,
iOS
,
Media Camp
,
Mobile
,
Mobile Video
,
Music
,
NTT DoCoMo
,
One Direction
,
Online Video
,
Player Card
,
RoboCop
,
Social
,
Startup
,
Time Warner
,
Tori Kelly
,
truTV
,
Turner
,
Tweet
,
Twitter
,
Universal
,
Videogram
,
Vine
,
YouTube