Verizon Communications is reportedly in talks with Vodafone Group to pay as much as $130 billion for Vodafone's 45 percent stake in Verizon Wireless. The deal, which could be completed within a week, would be the second-largest acquisition on record and could possibly lead to a new round of mergers across the global telecom industry. According to people familiar with the matter, Verizon has scheduled a board meeting to discuss the deal.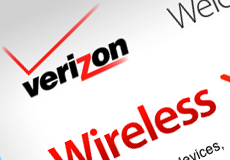 "Verizon currently owns a 55 percent stake in Verizon Wireless, the top U.S. cellphone carrier," reports The Wall Street Journal. "Since Verizon already controls the carrier, its 100 million subscribers may not notice any change despite the deal's giant size. But the financial implications for the company are substantial."
"The transaction would give Verizon unshared access to all of the joint venture's cash flow and would reweight the company away from its heavily regulated, unionized wireline operations," notes WSJ. "The cash would add to Vodafone's already sizable war chest, giving Chief Executive Vittorio Colao more firepower as he works to rebuild and expand the U.K. company's core European business."
In 1999 Vodafone paid $70 billion for what has become its current stake in Verizon Wireless. However, it has little control over operations. Verizon CEO Lowell McAdam, who came up through Verizon Wireless, is reportedly looking to expand the company's wireless operations.
"The upshot could be an acceleration of the pace of change in Europe's troubled telecom industry," suggests the article. "Across the European Union, there are far more than 100 mobile and fixed-line operators owned by a jumble of more than 40 major corporations, according to data from consultancy IDATE. That compares with just four big mobile operators in the U.S., where the cable TV and broadband business is consolidating, too. As a result, revenue and profit at many European telcos has been falling in a stagnant economy."
The deal could also create new opportunities for AT&T, as its executives have expressed interest in offering wireless services throughout Europe.
"It is just colossal," said an unnamed source from a prominent European telecom of the potential impact of the deal. "It would upend the market, and is making everyone think hard about their next move."
Topics:
Acquire
,
AT&T
,
Broadband
,
Cable
,
Carrier
,
Cellphone
,
Communication
,
Europe
,
European
,
IDATE
,
Joint Venture
,
Lowell McAdam
,
McAdam
,
Merger
,
Mobile
,
Phone
,
Purchase
,
Smartphone
,
Stake
,
Subscriber
,
Telecom
,
Television
,
TV
,
Union
,
Verizon
,
Verizon Wireless
,
Vittorio Colao
,
Vodafone
,
Wireless