Verizon announced that it is selling New York-based Tumblr to WordPress parent company Automattic Inc. Terms of the deal have not been formally announced, although some reports suggest that Automattic paid less than $3 million. Verizon purchased Tumblr in 2017 following its Yahoo acquisition; Yahoo paid $1.1 billion for the blogging platform four years earlier. Today, Tumblr is an active social networking hub and home to 475 million blogs. While it has a dedicated community, it does not share the same cultural impact as platforms such as Instagram, Snapchat and YouTube.
"Back when Yahoo bought Tumblr, then-CEO Marissa Mayer had seen [the] blogging site, founded by David Karp in 2007, as a potential major source of new revenue growth and a way into the social-media space," reports Variety. "But that never panned out and less than three years after buying it, Yahoo took impairment charges totaling $482 million for Tumblr."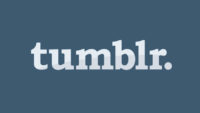 "Verizon began pruning the Yahoo-AOL portfolio last year. It sold photo-sharing site Flickr to SmugMug and offloaded Moviefone to Helios and Matheson Analytics, the parent of struggling theater-subscription service MoviePass."
"Tumblr is a marquee brand that has started movements, allowed for true identities to blossom and become home to many creative communities and fandoms," said Verizon Media CEO Guru Gowrappan in the release. "We are proud of what the team has accomplished and are happy to have found the perfect partner in Automattic, whose expertise and track record will unlock new and exciting possibilities for Tumblr and its users."
Tumblr "is an essential venue to share new ideas, cultures and experiences, helping millions create and build communities around their shared interests" said Automattic CEO Matt Mullenweg. "We are excited to add it to our lineup, which already includes WordPress.com, WooCommerce, Jetpack, Simplenote, Longreads, and more."
Verizon Media (formerly Oath) banned adult content from Tumblr late last year in an attempt to make it more appealing for advertising, but the decision caused traffic to plummet by nearly one-third. Automattic indicated that it has no plans to bring back adult content.
Mullenweg told The Wall Street Journal that Tumblr would serve as "complementary" to WordPress. "It's just fun," he told WSJ, which noted that Automattic will keep about 200 Tumblr employees. "We're not going to change any of that."
"One part of being a complement to WordPress is possibly sharing services and functionality," suggests The Verge. "Tumblr has a mobile interface that executives could use to leverage WordPress' own mobile platform. It's unclear what other services the two companies may share, but considering both are blogging platforms to some extent, there's room for experimentation."
Topics:
Acquisition
,
Advertising
,
AOL
,
Automattic
,
David Karp
,
Flickr
,
Google
,
Guru Gowrappan
,
Instagram
,
Jetpack
,
Longreads
,
Marissa Mayer
,
Matt Mullenweg
,
Mobile
,
Moviefone
,
MoviePass
,
New York
,
Oath
,
Photo
,
Simplenote
,
SmugMug
,
Snapchat
,
Social Media
,
Text
,
Tumblr
,
Verizon
,
Verizon Media
,
Video
,
WooCommerce
,
WordPress
,
Yahoo
,
YouTube