Live mobile video has exploded in the last few months, with offerings from Facebook, Snapchat, Twitter and others. Mobile users have quickly caught on to how they can use live video, from concerts to personal rants. But the Achilles heel, however, is that live video uses a tremendous amount of data and, the immediacy of live video encourages users to go live without a Wi-Fi network handy. The result is that an increasing number of mobile users are going over their data plan, incurring extra charges.
The Wall Street Journal reports on the rise of live video: in the five months since Twitter launched Periscope, the app has garnered 2 million daily users. Snapchat added a "live" feature for short videos to its over 100 million daily active users, and startups Meerkat and Rhinobird.tv have unveiled live-streaming apps. Facebook is about to enable live broadcasts for journalists, celebrities and others with verified profiles among its 1.3 billion monthly users.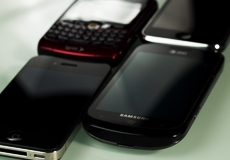 WSJ conducted a data usage test, measured against AT&T's online data calculator, that found that "five minutes of Periscope broadcasts on a smartphone was equivalent to nearly two hours of Web surfing or sending and receiving 300 emails," which means that, at the rate of five minutes a day, a user would burn up 50 percent of a 2GB data plan.
Periscope responded that WSJ's estimate exceeds its own by "more than double according to actual data," but provided no details.
A Sprint-sponsored study revealed that almost half of mobile users between 18 and 34 years old run out of data each month. T-Mobile, with which Sprint is the only other carrier to offer unlimited data plans, estimates that more than 20 million U.S. mobile phone users went over their limits and paid more than $1 billion in overage fees.
The problem is expected to grow. An Ericsson report shows that videos, which accounted for 31 percent of mobile data traffic is 2012, are expected to nearly double to 60 percent by 2020.
Providers are working on tools to alleviate the situation: Rhinobird.tv founder Felipe Heusser says his app will tell users when Wi-Fi is available, and Facebook and Twitter are looking for a way to minimize the data required to watch a video.