Apple senior vice president of Internet software and services Eddy Cue has released some details about the company's Apple TV Plus service, scheduled to launch in the fall. Positioning itself opposite Netflix's strategy, cue said that Apple will be "creating the best" rather than "the most" original content. He added that there is "nothing wrong" with Netflix's model, "but it's not our model." Apple is a latecomer to streaming video, although Disney, NBCUniversal and Warner Bros. will also debut platforms in 2019 and 2020.
The Verge reports that Cue added Apple hasn't been a leader in hardware. "We try to be the best, and we don't have to be the first to be the best," he said. Cue also admitted Apple's lack of expertise in television content, but said it tries to "find the best people for it."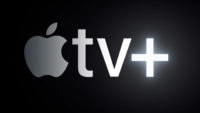 In addition to bringing on heavy-hitter executives from Hollywood and the U.K. — Jamie Erlicht, Zack Van Amburg and Jay Hunt — Apple has also built out a slate with shows from J.J. Abrams, Steven Spielberg, and Oprah Winfrey, among others.
In an interview, The Verge gleaned a few more details: Apple will likely release new content every month, with the workplace drama "The Morning Show" being the first series to debut. That show features Reese Witherspoon and Jennifer Aniston and, according to Cue, will focus on "real issues occurring in the workplace," and that "on the quality bar, it is really, really good."
Elsewhere, The Verge details much of the "family-friendly" programming in development at Apple. Children's shows include the animated series "Central Park," and two Sesame Street shows, one live-action and one animated. Comedies include "Dickinson," a half-hour show on poet Emily Dickinson. Dramas include "Little America," a series about immigration in America from Kumail Nanjiani and Emily Gordon ("The Big Sick") and a series based on basketball player Kevin Durant, "Swagger." Apple also has science fiction, documentaries, action/thriller and film content in development.
Topics:
Apple TV
,
Apple TV Plus
,
Disney
,
Eddy Cue
,
Emily Dickinson
,
Emily Gordon
,
J.J. Abrams
,
Jamie Erlicht
,
Jay Hunt
,
Jennifer Aniston
,
Kevin Durant
,
Kumail Nanjiani
,
NBCUniversal
,
Netflix
,
Oprah Winfrey
,
Reese Witherspoon
,
Sesame Street
,
Steven Spielberg
,
Streaming
,
Television
,
Video
,
Warner Bros.
,
Zack Van Amburg