The UK's Competition and Markets Authority opened an antitrust investigation last week into Microsoft's proposed Activision Blizzard takeover, analyzing whether the deal could harm competition "for example, through higher prices, lower quality, or reduced choice." The inquiry was announced the same day the CMA said it is looking into Amazon's use of data from third-party sellers. In January, Microsoft shared plans to purchase Activision Blizzard for $68.7 billion — a record-setting price for a tech acquisition — with a planned fiscal 2023 close. The CMA has set September 1 as the deadline for its initial decision.
"Antitrust enforcers around the world are gearing up to review the $68.7 billion Activision-Microsoft deal," writes CNBC, citing the Australian competition regulator and U.S. Federal Trade Commission among the agencies sniffing around the acquisition. In March, Reuters reported the FTC was seeking "additional data" about the transaction.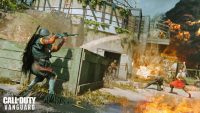 Microsoft corporate VP and general counsel Lisa Tanzi said the company is prepared for the regulatory scrutiny and would "fully cooperate," saying the company believes "a thorough review will help the deal close with broad confidence, and that it will be positive for competition," expressing confidence the deal will close within the planned timeframe, according to CNBC.
In is January announcement, Microsoft expressed a platform agnostic view, stressing gaming "across every device," and emphasized the deal as a diversification bid — a metaverse play — as opposed to a market share bulk-up.
Consummation of the deal would see Microsoft become the world's third-largest gaming company by revenue, behind Tencent and Sony Interactive Entertainment. It is currently No. 4, according to Apple Insider, behind third-ranked Apple.
"The CMA has played a significant role in recent years in the fate of several large tech companies' business development strategies," reports TechCrunch, noting "it struck down the acquisition of ARM by Nvidia, but it nodded through Microsoft's acquisition of Nuance for $20 billion. It's currently also investigating Google's adtech stack and at long last is looking into the duopoly in mobile in the country that is Apple and Google."
While the CMA didn't object to Facebook's 2014 acquisition of WhatsApp for $16 billion, in December it retroactively ordered the company to sell Giphy, a move that shocked Big Tech.
Topics:
Acquisition
,
Activision Blizzard
,
Adtech
,
Amazon
,
Antitrust
,
Apple
,
ARM
,
Australia
,
Big Tech
,
CMA
,
Competition
,
Facebook
,
FTC
,
Gaming
,
Giphy
,
Google
,
Lisa Tanzi
,
Meta Platforms
,
Metaverse
,
Microsoft
,
Nuance
,
Nvidia
,
Regulation
,
Sony
,
Sony Interactive Entertainment
,
Tencent
,
Tesla
,
United Kingdom
,
WhatsApp