Ubiquiti, a company known for selling networking products, has introduced FrontRow, a $399 Android-based wearable camera with a round display that enables "effortless capture" from a first-person point of view. The camera lets users toggle the livestream through Facebook Live, YouTube Live and/or Twitter Live. The two 55-gram (almost two-ounce) cameras, one on each side of the wearable device, offer a round 1.96-inch 640×572 LTPS (active matrix LCD) display. FrontRow features a quad-core processor, 2GB of RAM and 32GB of storage.
Android Police notes that the main camera has an f/2.0 8MP 140-degree wide-angle lens; the second is 5MP, with an f/2.2 aperture. The device has "two buttons (power and media), a capacitive home key, a 1W speaker, an LED, a connector, and a USB Type-C port."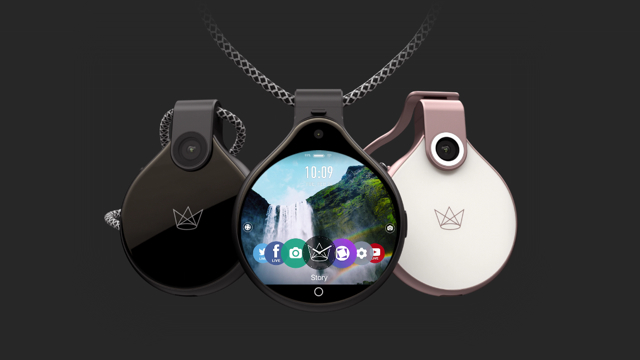 "The concept reminds me a bit of Casey Neistat's now-defunct Beme, which also attempted to provide viewers with a live visual without compromising the streamer's own experience," said the reviewer. Users can also "utilize integration with apps such as Dropbox and Spotify," and "third-party app development is being encouraged to add even more functionality in the future."
Available in the Play Store, the FrontRow app allows users to connect the camera to their Android or iOS smartphones via Bluetooth 4.1, and "even use a web UI controller on FrontRow's site should it come to that." The company claims that FrontRow's battery is good for two hours of live streaming, 16 hours of the Story Mode time-lapse feature and 48 hours of standby; it can recharge in 20 minutes via its USB Type-C port and, more slowly via USB-C phones.
FrontRow — essentially a "more fashionable GoPro," suggests Business Insider — comes in black and rose gold, the latter which will be available September 15. Available for purchase now on FrontRow.com and Amazon, FrontRow comes with a lanyard and magnetic clip but "you'll also be able to use third-party chains, a car window mount, and a flexible coil mount when they come out."
Topics:
Amazon
,
Android
,
App
,
Battery Life
,
Beme
,
Bluetooth 4.1
,
Camera
,
Casey Neistat
,
Dropbox
,
Facebook
,
Facebook Live
,
FrontRow
,
GoPro
,
iOS
,
LCD
,
Live Streaming
,
Networking
,
Smartphone
,
Social Media
,
Spotify
,
Twitter
,
Twitter Live
,
Ubiquiti Networks
,
Video
,
Wearable
,
YouTube
,
YouTube Live