TikTok is said to be partnering with Los Angeles-based TalkShopLive to handle its live shopping initiative in North America after an in-house UK effort produced lackluster results. Due to hit the U.S. in time for the holiday season, TikTok Shop will be built on technology and support from TalkShopLive as it positions live-stream shopping hosted by influencers, brands and retailers selling products on the short-form video platform. Launched last year, TikTok Shop UK was the ByteDance company's first such effort outside of Asia, where it is available in countries including Vietnam, Singapore and the Philippines.
TalkShopLive and TikTok "are still finalizing the arrangements and no contracts have been signed," writes The Financial Times, noting TikTok Shop, "allows users to buy products through links on the screen of the app during live broadcasts."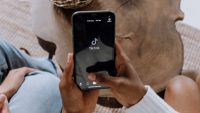 The format has proven lucrative for ByteDance's Douyin, its TikTok equivalent in China, "which has seen sales more than triple year on year in the 12 months to May," Financial Times reports, citing "about 9 million live e-commerce broadcasts each month in the period, selling more than 10 billion products" using what The Verge calls "QVC-style live streams" on ByteDance's home turf.
Launched in 2018, TalkShopLive reportedly facilitates "thousands of live streams per year" for clients that include Walmart, Condé Nast and Microsoft's MSN Shopping. The e-commerce infrastructure firm, which raised nearly $10 million in early funding last year, is said to take a 10 percent commission from each influencer or brand's live-stream sales.
TikTok is seeking a turnkey solution and "'somebody who can help manage the live shopping process,' said one person familiar with the plans," FT reports, adding that "the feature is expected to be launched over the next month with large brands ahead of the holiday season."
Meanwhile, Ad Age writes that "shoppable video is being moved to marketers' own websites," having failed to gain traction with the likes of brands or consumers on platforms including TikTok and Facebook. The Verge reports that while Meta Platforms has announced it's halting Facebook's live shopping efforts to focus on Reels, "live shopping still remains available on Instagram."
In general, live shopping "has yet to take off in markets outside of Asia," according to The Verge, which notes that hasn't prevented companies including YouTube, Pinterest and Amazon from continuing to experiment with the format in Western territories, trying to crack the code.
Topics:
Amazon
,
App
,
Asia
,
Brand
,
ByteDance
,
China
,
Conde Nast
,
Douyin
,
E-Commerce
,
Europe
,
Facebook
,
Holiday Shopping
,
Instagram
,
Live Shopping
,
Meta Platforms
,
Microsoft
,
MSN Shopping
,
Pinterest
,
QVC
,
Reels
,
Retail
,
Shoppable Video
,
Social Media
,
TalkShopLive
,
TikTok
,
TikTok Shop
,
United Kingdom
,
Walmart
,
YouTube