Search and apps may dominate today's landscape for mobile devices, but two different trends are already vying to dominate the future of smartphones and the Internet. One group, led by Apple and Google, sees a future in which artificial intelligence or a virtual assistant — think Siri and Google Now — integrate apps, websites and any other online "silos." The other group plans to leverage messaging apps to incorporate as many functions as possible. China's WeChat dominates here, but Facebook and Snapchat also fall into this group.
TechCrunch took a look at these two competing groups' progress. Google has been at it since 2012 with the introduction of Google Now, a digital assistant that's become more capable with every update, now supporting third party apps and, with Now on Tap, providing contextual information for user experiences.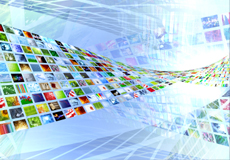 Apple, of course, has Siri, which became "contextually aware" with iOS 9's Proactive. Apple's iOS 9's new search API, says TechCrunch, "enables deep linking into apps to surface content from [third] party apps."
Other companies that are following a similar path include Amazon Echo, Microsoft's Cortana personal assistant and Android home-screen Arrow Launcher, Pebble Timeline (and Apple Watch Time Travel), and Yahoo's Aviate.
Those looking to messaging to create the mobile future include the dominant WeChat as well as Facebook, Line and Snapchat, all of which seek to "bypass websites and apps altogether by rolling up as many functionalities in the messaging experience as possible."
TechCrunch cites WeChat with its "aggressive bundling strategy," and its semi-open model that allows developers to build sites for news, taxis, commerce, bill-paying, and take-out food, "all without having to leave the app."
Others in this vein include Line, which TechCrunch calls "the next gateway to the Web in its respective markets," mainly in Asia. In the West, Facebook Messenger and Snapchat appear to also have an interest in becoming platforms. Facebook's Messenger has been focused on third party content, communication and P2P payments. Snapchat, which rolled out Snapcash, is "gradually growing into a media and entertainment-focused platform."
TechCrunch states that both would be "foolish not to borrow pages from WeChat's aggressive bundling strategy… This may be Facebook's biggest opportunity yet to evolve from an ad-driven platform and become the world's largest payment provider."
Topics:
Advertising
,
Amazon
,
Amazon Echo
,
Android
,
Apple
,
Apple Watch
,
Apps
,
Arrow Launcher
,
Artificial Intelligence
,
Aviate
,
Cortana
,
Facebook
,
Google
,
Google Now
,
LINE
,
Messaging
,
Microsoft
,
Mobile
,
Now on Tap
,
Pebble Timeline
,
Search
,
Siri
,
Smartphones
,
Snapcash
,
Snapchat
,
Social Media
,
Time Travel
,
Virtual Assistant
,
WeChat
,
Yahoo