As growth slows in the chip market, Intel is turning to a variety of other related industries to keep the revenue flowing. The company has turned to the burgeoning field of wearables, creating tiny chips and circuit board modules that can fit into the form factors and designs favored by wearable creators. It is also pushing RealSense, technologies that bring hearing and vision functionality to devices. To keep in the public eye, the company is also launching a reality TV show with Mark Burnett and Turner Broadcasting.
According to The Wall Street Journal, Intel chief executive Brian Krzanich says the company is developing a contest show with Burnett, tentatively titled "America's Greatest Makers," that will focus on people using Intel chips to create gadgets, in competition for a $1 million prize. The show is slated for a 2016 release.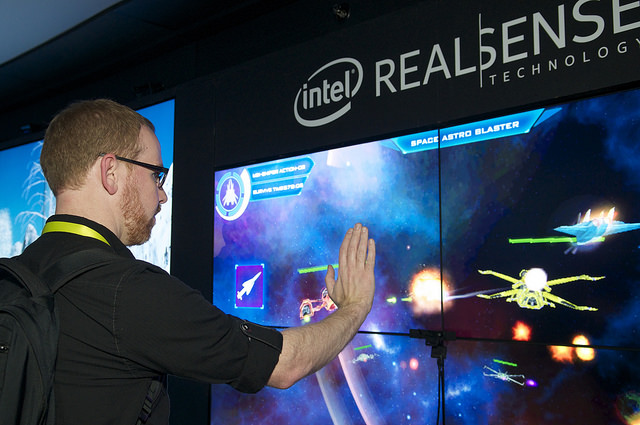 At Intel's annual Developer Forum, Krzanich showed off the company's work in wearables, with Curie, a combined processor/Bluetooth device the size of a button.
But wearables are only part of the Internet of Things that Krzanich has vowed to pursue. RealSense-centric developments were the focus, from Savioke's Relay, a robot that delivers drinks and food to hotel guests to N&W Global Vending's new machine, which is controlled by gestures.
Interesting developments are emerging from Intel's new compatibility with ROS, Linux, Unity, XSplit, Structure SDK, OSVR, and Google's Project Tango. As reported by Wired, Intel and Google are combining Project Tango (Google's 3D mapping project) and RealSense into an Android SDK. Showing off a RealSense smartphone running Google's software, says Wired, "the phone was able to 3D-scan a room simply with a sweep of its camera, an application that should be useful for advancing indoor mapping technology or scanning everyday home items in 3D."
"RealSense not only has the capability to dramatically expand device use cases, but also has the ability to drive processing requirements," says Moor Insights & Strategy president/principal analyst Patrick Moorhead. "This is vitally important given many apps moving to the cloud. Intel should be spending hundreds of millions if not billions to make this happen."
Topics:
3D
,
3D Mapping
,
3D Scanning
,
America's Greatest Makers
,
Android
,
App
,
Bluetooth
,
Brian Krzanich
,
Chip
,
Cloud
,
Curie
,
Gesture Control
,
Google
,
Intel
,
Intel Developer Forum
,
Internet of Things
,
Linux
,
Mark Burnett
,
Moor Insights & Strategy
,
N&W Global Vending
,
Patrick Moorhead
,
Project Tango
,
Reality TV
,
RealSense
,
Robot
,
rOS
,
Savioke
,
Turner Broadcasting
,
Unity
,
Wearable
,
XSplit