Amazon's newest tablet, the Kindle Fire HDX, is a good color tablet with a few improvements, but isn't as versatile as its current rivals, suggests Walt Mossberg. Its best feature could be the video chat-based tech support, activated by its Mayday button. The latest 7-inch screen version starts at $229. Mossberg describes the tablet as a "hardware gateway to buying digital content from Amazon." The basic model includes ads, but a version without ads can be purchased for an additional $15.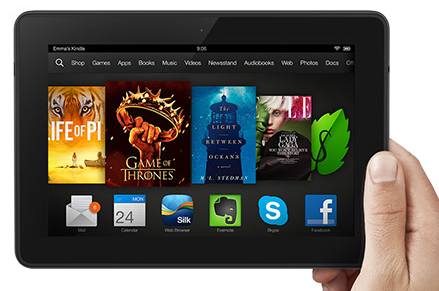 "The 7-inch Fire HDX, like its predecessor, still isn't as versatile or full-featured as rival tablets, like Apple's iPad Mini or Google's Nexus 7," writes Mossberg in his review in The Wall Street Journal. "It offers only a fraction of the third-party apps available from the Apple or Google app stores. Among the missing are such popular offerings as Instagram, Dropbox, Google Maps, YouTube and Netflix (Amazon says a Netflix app is coming soon)."
The HDX also lacks a rear camera and voice control app comparable to Apple's Siri or Google Now.
"The Fire HDX turned in a so-so battery life of 7½ hours that, while better than the 6 hours of the latest Nexus 7, paled before the iPad Mini's 10 hours and 27 minutes," explains Mossberg.
Despite these drawbacks, the HDX has a high resolution screen that displays 323 pixels per inch, a better screen (more readable in the sunlight than that of the iPad), and a faster processor. It also boasts a new operating system, and while the carousel that shows recent apps is still present on the home screen, it can be hidden if the user finds it distracting. There is also a new sidebar to switch between running apps.
The HDX includes a feature called X-Ray for Music, "which shows synchronized lyrics to the song you're playing. So far, it's only available on 'tens of thousands' of Amazon's 25 million songs, starting with the newest and most popular."
The HDX is slimmer and lighter than the previous model, and has tapered edges. Because the tapered edges are narrow, the power and volume buttons have been moved to the back of the tablet.
"Like its predecessors, the Fire HDX is technically an Android tablet that buries Android so it's invisible. The HDX lacks any hint of Google's Android interface, the standard Google apps that come on most Android devices and the standard Android app store, Google Play. Instead it uses an Amazon operating system now called Fire OS 3.0," notes Mossberg.
The Kindle Fire HDX launches on October 18.
Topics:
Ads
,
Advertisement
,
Advertising
,
Amazon
,
Android
,
App
,
Apple
,
Apps
,
Camera
,
Chat
,
Competition
,
Dropbox
,
Fire
,
Fire OS 3.0
,
Google
,
Google Maps
,
Google Now
,
HDX
,
Instagram
,
Interface
,
iPad
,
Kindle
,
Mayday
,
Mini
,
Mobile
,
Mossberg
,
Netflix
,
Nexus 7
,
Play
,
Processor
,
Resolution
,
Sidebar
,
Siri
,
Tablet
,
Tech Support
,
Video
,
X-Ray for Music
,
YouTube