The U.S. Supreme Court has ruled in favor of broadcasters in a decision that could have far-reaching implications for the media industry. The court found that online video startup Aereo violated copyright law by allowing its subscribers to watch and record over-the-air broadcasts from electronic devices via a system of miniature antennas. Broadcasters including ABC, CBS, FOX and NBC have been battling Aereo, arguing that the startup was accessing their programming without authorization.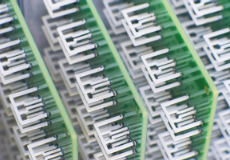 An earlier decision ruled in favor of the Barry Diller-backed Aereo, but was then challenged by the broadcasters.
"The court, in a 6-3 decision penned by Justice Stephen Breyer, reversed a controversial Second Circuit Court of Appeals decision that held Aereo didn't violate copyright laws," reports Forbes. "The Supreme Court ruled that Aereo's complicated system of miniature TV antennas and Internet links to individual subscribers was the equivalent of a 'public performance,' similar to the type Congress deliberately included in revisions to the copyright laws."
The new ruling is seen as a major victory for the television networks and comes at a critical time as media companies struggle to address new challenges in distribution and shifts in viewer habits.
Broadcasters have argued that "Aereo and similar services threatened to cut into a vital revenue stream — the billions of dollars they receive from cable and satellite companies in retransmission fees," reports The New York Times. "The networks said this revenue was so essential that they would have considered removing their signals from the airwaves had the court ruled for Aereo."
Aereo countered that its warehouses filled with thousands of small antennas were simply providing customers with access to free broadcast television delivered over public airwaves. However, Justice Breyer rejected the startup's arguments.
Sports leagues had expressed concerns that their licensing deals would be in jeopardy if games could be retransmitted without permission.
"Computer and software makers were also watching the case closely for its potential impact on the cloud-computing industry, given that Aereo is a cloud-based service," adds The Wall Street Journal. "The court took pains in its opinion to say that the ruling against Aereo was limited and wouldn't discourage the use or development of other emerging technologies."
Topics:
ABC
,
Aereo
,
Airwaves
,
Antenna
,
Barry Diller
,
Broadcasters
,
Cable
,
CBS
,
Cloud
,
Comcast
,
Congress
,
Copyright
,
Cord Cutting
,
Disney
,
FOX
,
Internet
,
Law
,
Lawsuit
,
Legal
,
Legislation
,
Licensing
,
NBC
,
Online
,
Retrans
,
Revenue
,
Ruling
,
Satellite
,
Software
,
Sports
,
Stephen Breyer
,
Stream
,
Supreme Court
,
Television
,
TV
,
Video