According to a new GfK study released last week, 19.3 percent of U.S. television households access their TV from free over-the-air (OTA) broadcasts. This represents 22.4 million households (59.7 million consumers) who currently get their TV exclusively via broadcast-only reception. New data from GfK's Media and Entertainment team suggests that 60 percent cited cutting costs, while far fewer mentioned that cord-cutting was the result of increased online viewing options.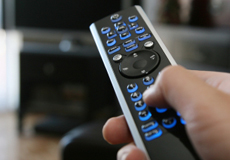 The study shows that the number of viewers relying exclusively on OTA TV broadcasting increased from 54 million last year. Moreover, there has been a 38 percent increase in OTA households in the last four years.
"These cost-conscious TV homes may be reaping some of the benefits of the transition to the digital TV broadcast standard, making use of that enhanced digital broadcast signal and its better video and audio quality," suggests the GfK Insights blog.
"Another feature of digital broadcasting is the numerous over-the-air digital side channels, offering a variety of additional programming in addition to the main broadcast channels. In larger markets, this means there may be over 20 total channels via over-the-air broadcast signals."
"The folks at GfK are careful not to lump all of these households into the Netflix-loving, always-streaming cord cutting category, instead pointing out that cost and not online access has been the primary factor for people to give up their pay TV subscription," explains GigaOM. "But even with that caveat in mind, GfK is estimating that 5.9 percent of all TV households have cut the cord, and that one in five young households never bothered to get a TV subscription to begin with."
Topics:
Antenna
,
Broadcast
,
Cable
,
Cord Cutting
,
Digital TV
,
DTV
,
GfK
,
Netflix
,
On Demand
,
OTA
,
Predict
,
Prediction
,
Provider
,
Research
,
Satellite
,
Stream
,
Streaming
,
Study
,
Subscription
,
Television
,
Trend
,
TV
,
Video
,
VOD