According to research firm ITG, Apple Pay already accounts for one percent of all digital payments. The mobile payments system, introduced in October, has experienced its greatest usage with Whole Foods, Walgreens and McDonald's. ITG also explains that consumers using Apple Pay increased their spending and frequency of use, resulting in a sales jump for participating merchants. By comparison, Google Wallet was introduced more than three years ago, and currently holds about four percent of digital payments.
"While PayPal currently remains the dominant force in the area of mobile payments at present, the rise of Apple Pay in all digital payment methods in just its first full month suggests that it has the potential to move into general consumer use, as opposed to just the technology-minded 'early adopter' crowd," reports Electronista.
"PayPal has said that it is looking into supporting Apple Pay in its own program, and has generally had a strong but not always smooth relationship with Apple and its mobile technologies."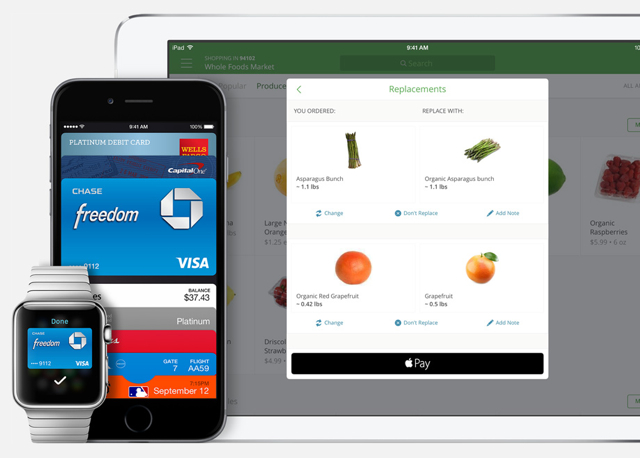 However, Apple may resist after PayPal opted to support Samsung's fingerprint scanner (Samsung is reportedly developing its own mobile payments system).
Consumers seem to like the security of the Apple Pay system, and the iPhone's Touch ID for verification. They also "seem to appreciate the enhanced privacy of transaction and financial data in Apple Pay versus other, more data-scraping systems like Google Wallet, Softcard, and the forthcoming CurrentC system, the latter of which is inherently designed as a sort of anti-Apple Pay in terms of user privacy," Electronista notes.
The ITG research shows that Whole Foods and Walgreens top the list of Apple Pay merchants with around 20 percent each of all transactions. McDonald's is currently in third at 11 percent, followed by Panera Bread at six percent and Subway at three percent.
Topics:
Apple
,
Apple Pay
,
CurrentC
,
Early Adopters
,
Fingerprint Scanner
,
Google Wallet
,
iPhone
,
ITG
,
McDonald's
,
Merchants
,
Mobile
,
Mobile Payments
,
Panera Bread
,
PayPal
,
Privacy
,
Retail
,
Sales
,
Samsung
,
Security
,
Smartphones
,
Softcard
,
Subway
,
Touch ID
,
Walgreens
,
Whole Foods