Acquired by Spotify in 2017, cloud-based audio recording studio Soundtrap just expanded its free tier for podcasters, now offering access to an unlimited number of projects and 2,210 loops. All creators using Soundtrap will now have unlimited free storage for podcasts and songs. Founded in 2012, the Swedish-based company has offered four subscription tiers, ranging from $10 to $17 per month, all supporting an unlimited number of projects, 550 instruments and 4,100 loops. Soundtrap's free tier previously limited users to five projects and 900 loops. The number of available instruments will remain the same.
VentureBeat reports, "Soundtrap has emerged as a key acquisition for Spotify … [especially since] this year alone, the company has shelled out around $400 million for three podcasting startups, covering studio production and distribution." Spotify now offers a dedicated tab for podcasts as an upgrade for its premium users, which just passed the 100 million mark in April. The company's revenue has increased 33 percent year-on-year, and it predicted that revenue from podcasts will grow through 2019.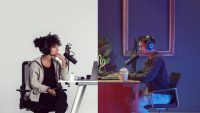 "Over time, our ambition is to develop a more robust advertising solution for podcasts that will allow us to layer in the kind of targeting, measurement, and reporting capabilities we have for the core ad-supported business," stated the company.
By expanding Soundtrap's free tier, Spotify is following its own playbook, in which it "long used its freemium model to lure people in before encouraging them to become paying subscribers." It added on-demand streaming features to its free tier last year, "to entice more people to sign up and ensure existing users didn't jump ship for a rival service."
"We're following Spotify's lead in improving what's available to those who use our basic, no-fee product," said Soundtrap managing director Per Emanuelsson. "Offering an even richer palette of tools for free online music-making inspires greater creativity and is likely to increase the love of music and storytelling for everyone passionate about connecting and creating."
VB adds that "this latest move isn't purely about bringing listeners on board so Soundtrap can eventually get them onto a paid plan … [but also encourages] people to create more original content," which would increase the number of podcasts available on Spotify.
Related:
Spotify's Soundtrap Aims to Simplify Podcast Editing for All, ETCentric, 5/21/19