Spotify-owned music-editing software company Soundtrap is launching a new product this week designed to make podcast editing as easy as using Google Docs. Dubbed "Soundtrap for Storytellers," the web-based production tool allows users to do everything in one place, including recording, editing and mastering audio. As just one example of how easy the product aims to make podcast editing, it will allow users to cut words out of automated transcripts of their recorded conversations and hear the changes reflected in the audio itself.
"It's a full production environment with everything you need directly in the tool," said Soundtrap CEO Per Emanuelsson, according to The Verge.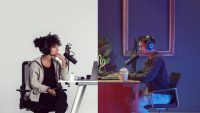 The tool contains various features, such as the ability for podcasters to host video interviews on the web app, and add free loops and sound effects, and much more. Soundtrap for Storytellers aims to encourage new and amateur podcasters to make shows, while boosting Spotify's podcast catalog in the process.
"…at the end of the whole process, Soundtrap offers users easy publishing directly to Spotify by checking a box. Users can also submit their transcript to Spotify, which Emanuelsson says is used to 'improve discoverability.' He also says it'll help with SEO, and given Google's recent announcement that it'll start surfacing podcasts in search results, the transcripts could give shows a boost if Google continues to assist in podcast discovery," reports The Verge.
Soundtrap for Storytellers costs $14.99 per month or it can be bundled with Soundtrap's music editing software for $17.99 per month.
"This product launch, coupled with Spotify's acquisition of Anchor earlier this year, demonstrates the company's interest in owning not only the platform on which people listen but also the tools they use to make their shows. The more access people have to easy-to-use software, the more likely they'll be to make a show in the first place," notes The Verge.
And the more likely Spotify can identify rising stars using the medium and offer them exclusive deals.