Spotify acquired Clubhouse rival Betty Labs, which produces live sports audio app Locker Room, for an undisclosed amount of money. Although Locker Room will stay live in the App Store, Spotify will rebrand it with a new name and broaden its focus to include music and culture as well as sports. In addition to the iOS version, Spotify will eventually add an Android version. LinkedIn and Facebook are also developing live audio features as the trend continues to gain traction. These apps would compete with existing platforms Clubhouse, Twitter Spaces and Discord.
The Verge reports Spotify chief R&D officer Gustav Söderström said that "Spotify-employed creators won't be required to go live only on Spotify's app" but that it would be a "great complement" to their audiences. The two apps will also be separate although Söderström said that, "maybe we'll integrate some of these features, or all of these features in the future."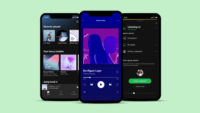 Chats might be free or paid, with Spotify experimenting with "different monetization features." Söderström pointed out that, "people already record their Spaces and Clubhouse chats and upload them as MP3 files to Anchor, Spotify's podcast creation and hosting software."
"We might want to make that more seamless," he said. The Verge notes that, "it's easy to imagine the company allowing people to natively record their chats and tap a button to distribute the1m directly to Spotify."
Meanwhile, CNET reports that LinkedIn is engaged in "early tests" of "an audio experience that's connected to your professional identity." "We're looking at how we can bring audio to other parts of LinkedIn such as events and groups, to give our members have even more ways to connect to their community," said LinkedIn spokeswoman Suzi Owens.
Although not yet named, the new audio experience will "feature a stage that will spotlight the room's host and speakers, as well as a group of listeners."
In addition, 9to5Mac reports on a "first look" at Facebook's new Live Audio feature after reverse engineer Alessandro Paluzzi "figured out how to enable the new feature in Facebook's mobile app, which is still hidden from regular users."
The audio feature, to be integrated into Messenger Rooms, is "basically a copy of Clubhouse." Similar to Clubhouse and Twitter Spaces, "users will soon find an option to start a Live Audio broadcast that lets them hear what you're saying in a room." Once a room is created, users invite others to join via "a Facebook post, direct message on Messenger, or by sharing a public link."
Also identical to Clubhouse, "profile pictures of the users in that room are shown in a circular shape, and they will be separated between speakers, people followed by speakers, and others." Paluzzi did note, however, that, "this is just an unfinished interface that's not even functional at this point, so we cannot say that the Live Audio feature will look like this in its final version."
Related:
Clubhouse, the Shift to Spoken Social Media, and the Voices That Will Be Silenced, Slate, 3/30/21
Spotify Is Taking on Clubhouse for Audio-Chat Supremacy, Protocol, 3/30/21
Slack Wants to Be More Than a Text-Based Messaging Platform, TechCrunch, 3/26/21
Facebook Is Reportedly Working on a Clubhouse Copy, The Verge, 2/10/21
Twitter Plans to Let Anyone Start Hosting Twitter Spaces in April, The Verge, 3/10/21
Topics:
Alessandro Paluzzi
,
Anchor
,
Android
,
App
,
App Store
,
Audio
,
Betty Labs
,
Clubhouse
,
Discord
,
Facebook
,
Gustav Söderström
,
iOS
,
LinkedIn
,
Live Audio
,
Locker Room
,
Messenger Room
,
MP3
,
Music
,
Podcast
,
Slack
,
Social Audio
,
Social Media
,
Sports
,
Spotify
,
Suzi Owens
,
Twitter Spaces