Spotify has launched its first global business-to-business ad campaign, the goal of which is to boost advertising revenue by attracting more small and medium-sized businesses. To that end, Spotify Advertising is the new name of the sector formerly known as Spotify for Brands. Advertising contributed 12 percent of Q2 revenue for Spotify, up from 7 percent the prior year. The subscription music service is also seeking more podcast inventory as it recasts itself as an "audio" streamer. Research firm eMarketer predicts Spotify will have 28.2 million monthly podcast listeners by year's end, overtaking Apple's iTunes, at 28 million.
"Our goal is to start to really compete with Snap and Twitter and deliver on the expectations advertisers have, including small businesses," Spotify's chief content and advertising business officer Dawn Ostroff said in a Wall Street Journal article about the campaign.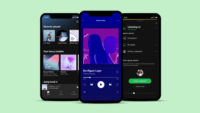 Advertisers have come to view Spotify as no longer "emerging" but "among the major platforms they use as streaming music and podcast listening have grown in popularity," explained Forrester Research senior analyst Collin Colburn.
U.S. podcast ad revenue grew to $842 million in 2020 (up 19 percent) and is expected to surpass $1 billion in 2022 and $2 billion by 2023, per the Interactive Advertising Bureau.
It is estimated that 116 million Americans (41 percent of the population over the age of 12) are now monthly podcast listeners, marking a 2020 increase of 37 percent, according to WSJ, citing a $100 million-plus agreement with Joe Rogan and deals with Gimlet Media and sportswriter Bill Simmons as "big bets on podcasting and live audio" for Spotify.
As the service seeks to expand its ad base to mom-and-pops, it is likewise going after "DIY creators," Spotify VP, head of global advertising business and platform Jay Richman said in WSJ.
Spotify is seeking to improve its podcasting advertising measurement, moving from a download model (which doesn't take into account whether the episode was played or ads skipped) to inserting ads via streaming, allowing them to be measured as played. The company is also planning to track audience demographics and other data.
In late 2020 Spotify purchased podcast ad platform Megaphone, and this year it introduced the Spotify Audience Network to facilitate the purchase of ads targeting specific audiences across a variety of content instead of by show.
Topics:
Advertising
,
Apple
,
Audio
,
B2B
,
Bill Simmons
,
Collin Colburn
,
Dawn Ostroff
,
eMarketer
,
Forrester Research
,
Gimlet Media
,
IAB
,
iTunes
,
Jay Richman
,
Joe Rogan
,
Measurement
,
Megaphone
,
Music
,
Podcasting
,
Snap Inc.
,
Spotify
,
Spotify Advertising
,
Spotify Audience Network
,
Spotify for Brands
,
Streaming
,
Twitter