During our CES coverage in January, we reported that Sony was planning to launch a 4K Ultra HD Media Player, preloaded with 4K movies from Sony Pictures Entertainment. On Monday, the company began taking pre-orders for the $699 device, which will be available this month (new 4K content will be added to the service by the fall). Those who purchase Sony's 4K TVs will receive a $200 introductory discount on the media player.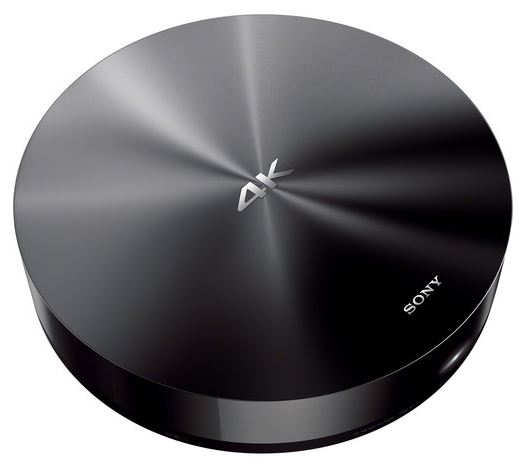 "The FMP-X1 media player is available to order at the Sony Store online and other participating online retailers," reports Variety. "Company says the unit will arrive in customers' homes by July 15, when it also will be available at retail."
The 4.8-pound disc-shaped media player has a hard drive capacity of 2 terabytes.
Ten titles are currently bundled with the 4K player: "The Amazing Spider-Man," "Bad Teacher," "The Karate Kid" (with Jackie Chan and Jaden Smith), "The Other Guys," "Battle: Los Angeles," "That's My Boy," "Salt," "Total Recall 2012," "Taxi Driver" and "The Bridge on the River Kwai."
The consumer electronics giant plans to launch Video Unlimited 4K in the fall. The service will offer feature films, TV episodes and short-form video in 4K. Feature films will be available as 24-hour rentals starting at $7.99, while purchases will start at $29.99.
"Sony, in an effort to make Ultra HD more affordable, introduced 55- and 65-inch 4K models priced at $5,000," notes the article, adding that "the top-of-the-line 84-inch unit costs a cool 25 grand."
Topics:
4K
,
4K TV
,
CES
,
CES 2013
,
Film
,
FMP-X1
,
HDTV
,
Karate Kid
,
Las Vegas
,
Media Player
,
Movie
,
River Kwai
,
Salt
,
Sony
,
Sony Pictures
,
Sony Store
,
SPE
,
Spider-Man
,
Taxi Driver
,
Television
,
Total Recall
,
TV
,
UHD
,
UHD TV
,
Ultra HD
,
Video
,
Video Unlimited 4K
,
VOD