The Tribune Company has agreed to pay about $2.73 billion to acquire all 19 television stations from Local TV Holdings, which is owned by investment firm Oak Hill Capital Partners. Tribune, which already owns 23 local TV outlets and is looking to possibly sell some or all of its newspapers, will become one of the country's largest station groups through the deal (and the biggest holder of Fox affiliates). The 19 stations cover areas from Scranton to Salt Lake City.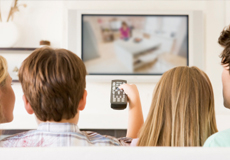 "The deal nearly doubles the company's television footprint across the country, giving it one of the largest groups of local affiliates in the United States," reports The New York Times. "It also continues the groundswell of consolidation in local television, as big media companies stockpile stations to reap the lucrative retransmission fees the stations receive, and take advantage of a revived advertising market."
Combined with acquisitions by Gannett and Sinclair, "2013 will go down as the year of transformational consolidation, forever changing the landscape of local market television ownership and operation," said Steve Ridge, head of the media strategy group at Frank N. Magid Associates.
"It is a time to gobble or get gobbled," he said.
"Even though the television business faces tremendous pressure from new Internet business models, local stations are highly attractive because they take in substantial revenue in the form of fees from the cable and satellite companies that carry the stations," explains NYT. "Those retransmission fees are growing rapidly. They are expected to total $3 billion industrywide this year and grow to $5 billion by 2016."
"Meantime, Tribune is continuing to explore the sale of its newspaper group, which includes the Los Angeles Times and Chicago Tribune," adds The Wall Street Journal.
Tribune emerged from a protracted bankruptcy six months ago and named TV vet Peter Liguori as its CEO. "Liguori brushed aside suggestions the TV acquisition distracted the company from deciding what to do about its newspaper group, emphasizing they won't necessarily be sold," notes WSJ.
"We are looking at all of our strategic options," said Liguori. "But we are spending the greatest amount of focus efficiently running those papers and making sure we are creating great journalism every single day."
Topics:
Acquire
,
Acquisition
,
Advertising
,
Affiliate
,
Business
,
Cable
,
Chicago Tribune
,
Deal
,
Finance
,
Financial
,
FOX
,
Frank N. Magid
,
Gannett
,
Liguori
,
Local
,
Local TV Holdings
,
Los Angeles Times
,
Oak Hill
,
Pennsylvania
,
Purchase
,
Salt Lake City
,
Satellite
,
Scranton
,
Sinclair
,
Station
,
Television
,
Tribune
,
Tribune Co.
,
TV
,
Utah