Intel's leadership promised on Friday to place their chip processors in position to enter the mobile and other non-computer markets. Despite their planned release of a TV set-top box, Intel is entering the new field with caution. In contrast, it is focusing much effort on its chip making. Intel will attempt to bring their Atom chips to a more equal level with their Core line of computer chips, and compete directly with ARM processors.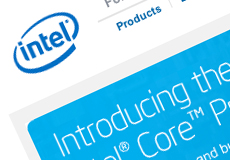 Although inexperienced in delivering content to home entertainment, Intel plans to sell a television set-top box device and related services. "We are trying to evaluate what do we do now, and how do we best utilize this technology, and what is our business model," said Brian Krzanich, Intel's new chief executive. "We are just being cautious."
The Atom chip was originally designed for inexpensive sub-laptops called netbooks, but has been updated for use in devices such as smartphones and tablets. Some device manufacturers are using Atom; however, most are using chips by British rival ARM Holdings.
"The Core line of chips, which is used in personal computers, has long been considered Intel's flagship product line," reports The Wall Street Journal. "For one thing, Core models sell for more than $100 while Atoms are closer to the $20 mark."
But Intel's new president, Renee James, is looking to build up the Atom.
Intel will begin changing Atom's manufacturing process in order to make it more powerful, consume less energy, and cheaper to build. Krzanich plans to use these new manufacturing methods to build up Intel's "foundry" business, the making of chips for other companies.
While staying with Intel made technology, Krzanich isn't ruling out providing chips to its foundry customers who prefer ARM technologies. "We will consider what it takes to land customers," said James, suggesting that they will make some chips more ARM-like.
Topics:
ARM
,
ARM Holdings
,
Atom
,
Chip
,
Computer
,
Core
,
CPU
,
Foundry
,
Intel
,
Intel Atom
,
Intel Core
,
Krzanich
,
Manufacturer
,
Manufacturing
,
Microprocessor
,
Mobile
,
Netbooks
,
Performance
,
Processor
,
Renee James
,
Set-Top Box
,
Smartphone
,
STB
,
TV
,
Video
,
VOD