Photo sharing and social media are paving new ways to communicate, simply and without words. They are forming a new online language, one that is universal and overcomes language barriers. Most major social media platforms offer photo and new video sharing services, and they are receiving major investments to do so. These new services are starting to chip away at established text messaging, but some are concerned of this new communication's effect.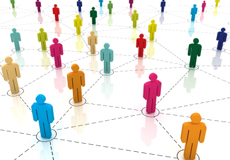 Sergey Brin, Google's co-founder, recalled a time when he replied to a message with a picture he took with his Google Glass camera and thought this basic act of communication with an image and not words was profound. "It was fascinating to see that I could just reply to a text message with a photo," Brin said in an interview with The New York Times.
Images are quickly becoming the new form of dialogue and can overcome language barriers with the universality of the photo. Taking a simple picture is easier and faster even with abbreviated and coded Twitter posts and texts. "This is a watershed time where we are moving away from photography as a way of recording and storing a past moment," said Robin Kelsey, a Harvard photography professor. People are "turning photography into a communication medium."
The most popular social networking sites offer photo services that allow users to share and edit their images, such as Yahoo's Flickr, Facebook's Instagram and Twitter. These companies are taking advantage of people's need to communicate via photos. Another photo exchange service is Snapchat, which offers images with a limited lifespan.
Photo users are increasingly sharing their photos. Evan Spiegel, Snapchat's founder, reports that Snapchat users send 200 million images a day, an increase from 50 million in December. Instagram also reported major use last week, with 45 million photos a day, and 16 billion since its beginning.
Video sharing apps have made recent debuts with Twitter's Vine and Instagram's new video service. Vine allows for sharing of six second videos, and more than 13 million have signed up to use it since its January launch. Instagram video is becoming more popular in its first two weeks since it has started to allow 15 second videos.
Photo sharing via apps is increasing while text message use is falling. Wireless industry trade group CTIA reported that 2.19 trillion were exchanged in 2012, about a 5 percent decrease from the previous year, while multimedia messages (MMS) increased 41 percent to 74.5 billion.
The new attention to photo sharing is attracting big money. Snapchat raised $60 million and Facebook bought Instagram for $1 billion last year. Despite all the activity, some critics, such as Mitchell Stephens, author and NYU journalism professor, are concerned about the negative effects on the English language, and favors a cautious approach to a deep and interesting way to communicate.
Topics:
App
,
Camera
,
CTIA
,
Facebook
,
Flickr
,
Google
,
Google Glass
,
Harvard
,
Image
,
Instagram
,
Language
,
MMS
,
Mobile
,
NYU
,
Photo
,
Photography
,
Sergey Brin
,
Sharing
,
Smartphone
,
SMS
,
Snapchat
,
Social
,
Social Media
,
Text Message
,
Tweet
,
Twitter
,
Video
,
Vine
,
Yahoo