Snap is already sold out on its first run of Spectacles, the $130 Snapchat sunglasses with a built-in camera for shooting video. The sunglasses were for sale in a pop-up vending machine, dubbed Snapbot, at the company's Venice Beach headquarters, and now some of them are already for sale on eBay priced at $600 to $1,000. Snap is deliberately rolling out Spectacles in a playful fashion, with vending machines festooned with balloons and designed to look like a Cyclops cartoon character.
Bloomberg reports that consumers can virtually try on the glasses in all three colors available: black, coral and teal. After a credit card swipe, the Snapbot dispenses the glasses through its "mouth." To add mystery to the rollout, Snapchat has been mum on where the next Snapbot will be, posting the location on Spectacles.com just 24 hours in advance.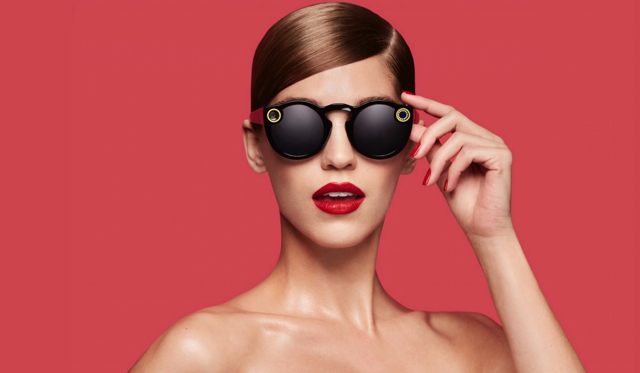 The company has also not said whether Spectacles will ever be available in stores, and would not make them available to journalists or reviewers.
TechCrunch spoke with a few consumers who purchased Spectacles about the experience. The takeaway is that they are "simple as possible" to use and "a blast." "You pair them with your iPhone over Bluetooth. Just point them at the QR code on your phone. Then you give them a name. Once that's done, put them on, tap the button, and it records 10 seconds of video."
Other details include that the LED lights spin while the camera is recording and HD video requires a Wi-Fi setup to import. A dedicated button on the camera screen takes the user to the Specs section of Memories, where the user can pick a Story and edit it. Especially "super cool," says TechCrunch, is circular video and being able to rotate the phone to see more.
"It's similar to a GoPro (obviously lower resolution), but it also removes the camera from being in front of what you are looking at … there is nothing between you and the moment." The conclusion? "Snap is smart to have made it a toy and relatively affordable."
Topics:
Bluetooth
,
California
,
Camera
,
eBay
,
GoPro
,
HD Video
,
iPhone
,
Journalists
,
Memories
,
QR Code
,
Reviewers
,
Smartphone
,
Snap Inc.
,
Snapbot
,
Snapchat
,
Snapchat Story
,
Social Media
,
Spectacles
,
Spectacles.com
,
Sunglasses
,
Venice Beach
,
Video
,
Video Recording
,
Wearables
,
Wi-Fi