Google's first VR headset, the $79 Daydream View, started shipping, the first step in the company's goal to make Android the dominant VR operating system. Daydream faces some stiff competition, however, including Facebook's Oculus Rift and Samsung Gear VR for PC and mobile devices, and Microsoft's holographic version of Windows. So far, reviewers are giving Daydream a thumbs-up, as simple to use, inexpensive and light, and one reviewer calls the content on YouTube VR the new headset's "killer app."
Recode quotes Google head of VR Clay Bavor as noting that, "we're in such early days of VR — 99.9 percent of things in VR have yet to be discovered."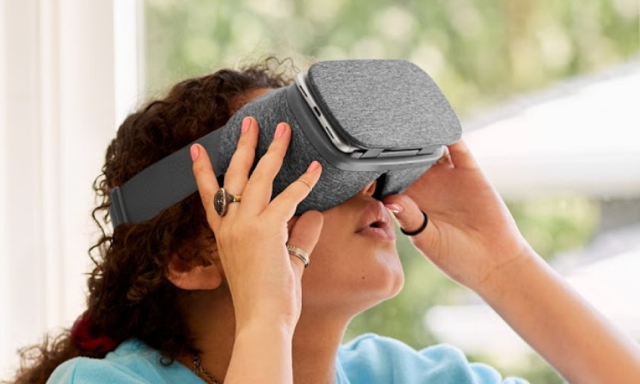 "The magic starts to happen in VR when there are enough users, when there are enough devices, and most important, enough things to do," he said.
Wired's review of Daydream judges it on "what it isn't: Complicated. Heavy. Expensive. Finicky. Most importantly of all, though, it's not Cardboard." The View is so simple that it is "almost entirely featureless," but its companion controller is "like a cross between the Apple TV's remote and a Wiimote," or, more aptly, similar to Oculus Rift's remote — but better.
Daydream is motion-tracked, but it is still mobile VR, meaning the user "can't physically move through a virtual space," making for "a somewhat constrained VR experience." Still, says Recode, the experience is the best yet among VR headset options, with a Pixel XL's Quad HD OLED screen delivering an excellent image.
At the moment, Daydream is only available to Verizon customers, but will soon be ready for "at least eight different Android manufacturers, from Asus to Xiaomi." Content is also more robust, coming two years after the debut of the Oculus Store, with "more than 40 other games, experiences and apps arriving on Daydream over the next two months."
The Verge reviewed YouTube VR and "found a lot to love," deeming it "a big step up from the VR experience Google has been able to deliver so far with its Cardboard headsets." Among the best features it says, is a "terrific" software interface for casual browsing and more accurate head tracking. The YouTube VR app is "polished and intuitive … like a floating wall of semi-translucent controls," and "the Daydream controller makes clicking and scrolling a snap."
Both Google Street View and Google Play are "far less polished" than YouTube VR. Voice search is available.
One major issue, says the reviewer, is that, with streaming video, when the connection falters, YouTube downgrades the quality of image, resulting in a "blurry, pixelated mess." With the settings tweaked for high-quality video only, a lack of connection made the video pause with "a white pinwheel circling in space."
For the moment, YouTube is offering existing content, but the hope is that "its popular creators figure out how to adapt the genres that already work for them to the medium of immersive videos" and thus offer more than linear films.
Topics:
Android
,
App
,
Asus
,
Cardboard
,
Clay Bavor
,
Daydream View
,
Facebook
,
Game
,
Google
,
Google Play
,
Holographic
,
Microsoft
,
Mobile
,
Motion Tracking
,
Oculus Rift
,
Oculus Store
,
OLED
,
PC
,
Pixel XL
,
Samsung Gear VR
,
Streaming Video
,
Verizon
,
Virtual Reality
,
Voice Search
,
VR Headset
,
Windows
,
Xiaomi
,
YouTube VR