Snap has unveiled two new versions of Spectacles 2 — the Veronica (for women) and the Nico (for men) — that incorporate all the features of the company's second generation Spectacles, but tout a sleeker, more stylish design and cost $200, versus $150 for the previous version. Many of Snapchat's core demographic has left for Instagram, and critics question why Snap is still making hardware. When Spectacles initially debuted in 2016, Snap created hype by selling them out of pop-up vending machines. A few months later, the company was stuck with $40 million worth of unsold glasses.
Wired reports that, "if hardware is the future of the company, it's not clear where Snap is going." Despite those remaining first-gen Spectacles, Snap made a second-generation version, switching sales from vending machines to online, and adding features requested by users, including "waterproofing, easier export capabilities, and the ability to take still photos." The company said it added a better image processor and "smaller battery to make the frames lighter on your face."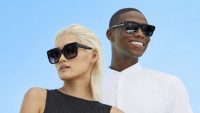 The latest, third-gen Spectacles have all those features, but "don't look like a Snap product anymore." The frames are not "cartoonishly circular" or offered in bright colors. When the user presses record, LED lights up rather than bright yellow rings. Last, the exported video is no longer circular (a format that only looked good when viewed within the Snapchat app).
"Snap says it will be adding a new feature to the Snapchat platform this year that will automatically curate Snaps taken on Spectacles to create a Highlight Story," explains Yahoo. "Making it easier and more convenient to create and share content could help boost engagement."
For its second-gen Spectacles, Snap "issued a software update that made it possible to save videos and stills in square and horizontal formats." With the new Spectacles, for the first time, the user can auto-save to his or her phone's camera roll, "bypassing the Snapchat app altogether."
Wired calls this "one signal that the company is thinking of its glasses as something new altogether — like a GoPro for your face — rather than just a way to feed back into its own app," and opines that, "Snap sees a future where its hardware and software converge." All those AR tools that distinguished the Snapchat app will be useful "to show up somewhere other than on your phone." That's because, "so far, Spectacles haven't been the slam-dunk Snap needs," with recent earning reports falling "short of expectations."
"Hardware could be Snap's last chance at snapping back, especially after the mass exodus from its social app," says Wired, "But it's a gamble. If this third iteration of Spectacles flops, it could signal bad news to the investors keeping the company afloat."
Topics:
Augmented Reality
,
Battery
,
Camera
,
Glasses
,
GoPro
,
Hardware
,
Horizontal Video
,
Image Processing
,
Instagram
,
LED
,
Nico
,
Photo
,
Pop-Up Shop
,
Snap Inc.
,
Snapchat
,
Snaps
,
Social Media
,
Software
,
Spectacles
,
Spectacles 2
,
Square Video
,
Video
,
Waterproof