Sling TV, the Internet TV service from Dish Network, unveiled a new user interface at CES this week. The service is shifting emphasis from live television to on-demand content, with a new menu section that allows people to save a list of their favorite TV shows and movies and search by content, rather than by channel. Sling also tweaked the interface so that customers can discover the add-on packages of channels and purchase them directly from their TV or smartphone.
Sling TV has offered on-demand content since the beginning, but it was often hard to find because the interface was organized by channels. Because not all of the channels offered their content on-demand, users didn't even know where to find it. The new interface also features new categories to make finding TV shows and movies easier.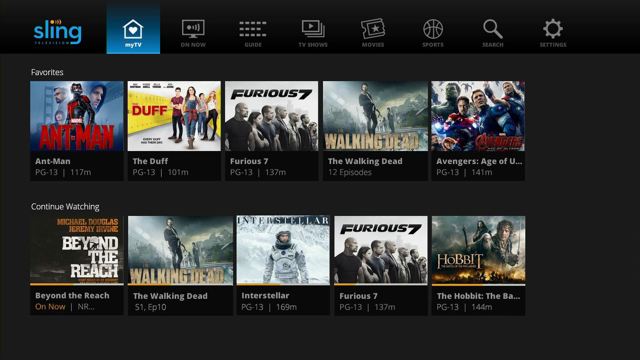 The interface helps create a more personalized browsing experience. In addition to the new "My TV" list, the surface content will change to fit the user's needs. It will recommend content based on past viewing behavior, the time of day, and even the type of device. This new interface will launch on certain devices during the first quarter, reports Variety.
There will be plenty of content to discover when the interface launches. Sling offers a total of 65 channels and counting. The service is adding ESPN3 to its base package, which is a first because usually ESPN only sells ESPN3 to Internet service providers. In the future, Sling also wants to explore doing multiple streams, so that people can stream content to multiple devices at the same time.
Topics:
Broadcast
,
CES 2016
,
Channels
,
CTA
,
Discovery
,
Dish
,
ESPN
,
ESPN3
,
Internet TV
,
Las Vegas
,
Live TV
,
Movies
,
Multiple Streams
,
On-Demand Content
,
OTT
,
Personalized Content
,
Recommendations
,
Search
,
Sling TV
,
Smartphone
,
Sports
,
Streaming
,
Television
,
TV Shows
,
UI
,
User Interface
,
Viewer Habits
,
VOD