Showtime is joining HBO in introducing its own Internet streaming service that will offer unlimited on-demand access to original series, movies and sports programming without requiring a traditional TV subscription. In addition, it will include a live feed of Showtime's broadcasts for both coasts. The cable network announced yesterday that it plans to debut the standalone service in July to coincide with the season premieres of "Masters of Sex" and "Ray Donovan." The service will initially be available on Apple devices for $11 per month.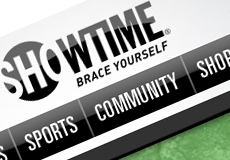 A free 30-day trial will be made available to new customers who register during July through Apple. Showtime is expected to introduce additional distribution partners.
"The development is the latest in a flurry of new streaming services from media, telecom and technology companies that are trying to keep pace with the digital competitors Netflix, Amazon and Hulu and stay relevant to a generation of viewers who pay for Internet access but not traditional TV subscriptions," reports The New York Times.
HBO launched its $15 per month streaming service HBO Now in April, and CBS (Showtime's owner) debuted an online-only service last year. Apple is currently in discussions to feature broadcast networks in its anticipated streaming service.
"Across CBS, we are constantly finding new ways to monetize our programming by capitalizing on opportunities presented by technology," said Les Moonves, chief executive of CBS.
Topics:
Amazon
,
Apple
,
Cable
,
CBS
,
Cord Cutters
,
Distribution
,
Documentaries
,
HBO
,
HBO Now
,
Hulu
,
Internet
,
Les Moonves
,
Masters of Sex
,
Movies
,
Netflix
,
Network
,
On Demand
,
Original Programming
,
Pay TV
,
Premium Cable
,
Ray Donovan
,
Series
,
Showtime
,
Sports
,
Streaming
,
Subscription
,
Telecom
,
TV Shows
,
Video