Dish Network is in discussions to merge with T-Mobile US, say people familiar with the matter. While financial specifics remain unresolved, the people indicate that the combined company would be led by Dish Chief Exec Charlie Ergen as chairman, and his T-Mobile counterpart John Legere as CEO. The deal would merge the second-largest satellite TV operator in the U.S. with the fourth-largest wireless carrier. Dish has a current market capitalization of $33 billion, slightly higher than T-Mobile's $31 billion.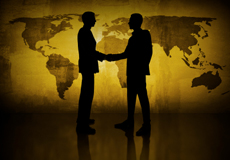 The talks are described as being at "the formative stage," said one of the individuals.
"If completed, the deal would be the latest multibillion-dollar combination in traditional television and communications industries being upended by the Internet," reports The Wall Street Journal.
"T-Mobile rival AT&T Inc. is close to wrapping up its $49 billion deal for Dish rival DirecTV that would create the country's largest pay TV company. Meanwhile, Charter Communications Inc. recently announced a total of $67 billion in deals that would roll up Time Warner Cable and Bright House Networks to create the second-largest cable operator."
T-Mobile's wireless service would help fill the gaps created by Dish not having a robust broadband service or a cellular network for its billions of dollars worth of wireless licenses, suggests WSJ. Meanwhile, Dish's wireless licenses would help boost T-Mobile's network capacity to take on rivals AT&T and Verizon.
Topics:
AT&T
,
Bright House Networks
,
Broadband
,
Cable Operator
,
Cable TV
,
Cellular Network
,
Charlie Ergen
,
Charter Communications
,
DirecTV
,
Dish Network
,
Internet
,
John Legere
,
License
,
Merger
,
Pay TV
,
Satellite
,
Satellite TV Operator
,
T-Mobile
,
Television
,
Time Warner Cable
,
TWC
,
Verizon
,
Wireless
,
Wireless Carrier