Samsung announced that its next-gen Frame TV — which doubles as a rotating art display — features an updated artwork UI, expanded art library and additional customization features. The 4K UHD screen has been upgraded from HDR Pro to HDR10+ — and now comes with Bixby so that users can control the TV and compatible home devices by voice. The unit also touts new smart capabilities that make it easier to transfer Wi-Fi and Samsung account info from smartphones to the TV set via Bluetooth Low Energy. The new 55-inch Frame TV is available for $1,999, while the 65-inch version runs for $2,799.
"The idea with the Frame TV is that when it's not in use as a traditional TV, it doubles as an art display, cycling through photographs, paintings, drawings, and more gathered from prominent museums, archives, and artists around the world," reports The Verge. "Individual works of art can be purchased, or you can get a subscription to the Samsung Art Store for $4.99 a month. New subscribers get one month free."
According to the press release, Samsung suggests that, "much like curating a music playlist, owners can create a personalized collection that shuffles through their particular selections as often as they like."
The Frame TV offers four magnetic bezels of different colors, hangs flush to the wall via the proprietary No Gap Wall Mount, and features sensors that adjust the screen brightness based on ambient light in the space.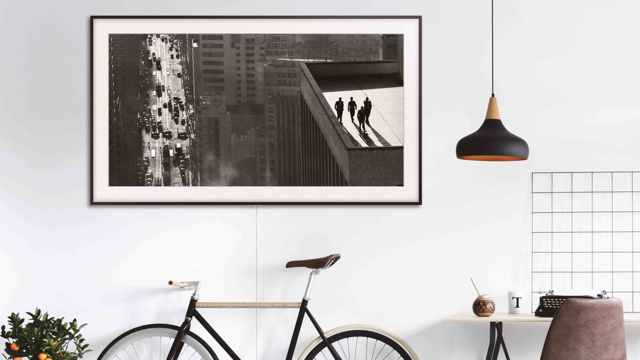 "We designed The Frame for consumers who love the function of a big, beautiful 4K UHD TV but struggle to design their room around an empty black screen when the TV is turned off," said Dave Das, SVP of consumer electronics for Samsung Electronics America. "You can travel the world and still be hard-pressed to discover all of the art that is now available on The Frame. It gives consumers the freedom to design the room of their dreams, and the flexibility to change that design whenever they like."
Topics:
4K
,
Artwork
,
Bixby
,
BLE
,
Bluetooth
,
Customization
,
Dave Das
,
Design
,
Digital Assistant
,
Frame TV
,
HDR
,
HDR Pro
,
HDR10+
,
Museum
,
Paintings
,
Photo
,
Samsung
,
Samsung Art Store
,
Sensor
,
Smart Controls
,
Smart Home
,
Smart TV
,
Smartphone
,
Subscription
,
Television
,
The Frame
,
Ultra HD
,
Virtual Assistant
,
Voice Control
,
Wi-Fi