The Chernin Group is producing an unscripted reality series that plans to skip television distribution in favor of a new social media model. The series will be distributed entirely via social platforms including Twitter, Instagram, YouTube and Tumblr. The concept is a bold experiment that hopes to target younger viewers on the devices and platforms that have replaced their traditional television viewing.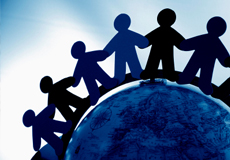 "The series, entitled '@SummerBreak,' will play out largely on four platforms: Twitter, where Peter Chernin sits on the board of directors, and Tumblr, where he is among the investors, as well as YouTube and Instagram," reports Variety. "Production has just begun and the launch is anticipated this summer with AT&T on board as sole sponsor and financial backer."
The series follows a group of graduating seniors from Los Angeles Westside high schools for two months before they head to college and elsewhere. "Instead of the traditional 30- or 60-minute episodic format, the series will play out 24/7 as a series of tweets with photos and videos attached," notes the article.
The question remains whether viewers will be attracted to a narrative thread across multiple platforms. However, Variety notes: "A key advantage of the innovative format is that erasing the multi-month lag between production and distribution allows the producers to adjust the series in real time based on audience data demonstrating which characters are drawing the most interest."
The series also marks another step in Twitter's interest in becoming a video distribution platform. In recent months, we've reported the micro-blogger's video-sharing push with Vine, as well as its new deals with broadcasters and advertisers. "Viacom-owned Comedy Central plans a comedy festival on the platform later this month," adds the article. "Another cable network, Fuse, recently pacted with sponsor Trident for a Twitter-only series as well."
Topics:
AT&T
,
Chernin Group
,
Comedy Central
,
Fuse
,
Instagram
,
Reality
,
Social
,
Social Media
,
SummerBreak
,
Television
,
Trident
,
Tumblr
,
TV
,
Twitter
,
Video
,
Vine
,
YouTube