Notable handset makers and telecom carriers are turning to alternative mobile operating systems in an effort to beat Microsoft and Research In Motion to the punch as the next credible challenger to smartphones run by Apple and Google. A range of companies are hoping an alternative platform to market leaders iOS and Android will emerge. Watch for devices running Firefox OS, Tizen, Ubuntu and Sailfish.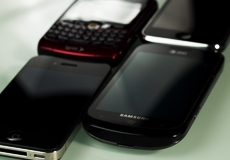 "Manufacturers such as Huawei Technologies Co., LG Electronics Inc. and ZTE Corp. are building phones for Mozilla's Firefox OS due out this year with the support of several major carriers," reports the Wall Street Journal. "The first mobile phone using Tizen, a system co-developed by Samsung Electronics Co. and Intel Corp., is slated to be unveiled in the third quarter."
"London-based Canonical Ltd. is making a smartphone version of its Linux-based computer operating system called Ubuntu, with plans to ship the software on phones through mobile operators in the early part of 2014," notes the article. "And Jolla Ltd., a Finland startup, plans to launch a smartphone based on its own proprietary 'Sailfish' platform later this year."
According to some handset manufacturers and telecom operators, we may need diversification to help reduce the cost of handsets and subsidies. Fear has also been expressed that Google is becoming too dominant. However, new systems may have difficulty taking on Apple and Google at this point.
Android and iOS accounted for 87.6 percent of the 722.4 million smartphones shipped globally last year, up nearly 20 percent from the previous year, reports researcher IDC. A successful third alternative will need the support from handset manufacturers, carriers and app developers.
"The alternative platforms must be able to attract enough software developers to create good native applications for the devices — something even BlackBerry and Microsoft have been battling to achieve," suggests WSJ. "For years, Samsung and Nokia Corp., two of the world's biggest handset makers, invested in their own operating systems with little success despite their scale and relationship with carriers because they weren't able to attract developers to create good applications."
"If Microsoft with almost unlimited resources can't break in, it's going to make someone think twice," said Gartner analyst Hugues de la Vergne.